A temporary reprieve was secured on Tuesday by the six accused persons standing trial over an alleged pilfering of N14.5 billion from the Police Pension Funds.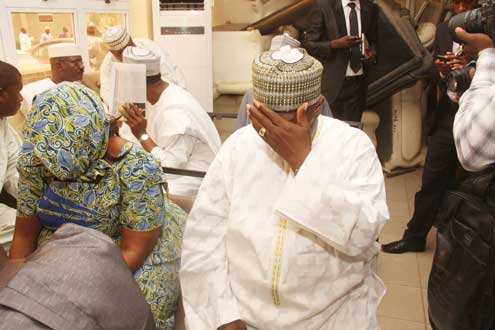 The accused persons were granted bail by Justice Abubakar Talba of an Abuja High Court following the application for bail moved on their behalf by their lawyers.
Justice Talba, had last Thursday made an order for them to be remanded in prison custody after they all pleaded "not guilty" to the 16-count charge brought against them by the Economic and Financial Crimes Commission, EFCC.
Those arraigned were Alhaji Atiku Abubakar Kigo, Esai Dangabar, Ahmed Inuwa Wada, John Yakubu Yusuf, Mrs Veronica Ulonma Onyegbula and Sani Habila Zira.
At today's proceedings, counsel to the accused persons, Chief Adegboyega Awomolo, a senior advocate of Nigeria, urged the court to grant his clients bail on the ground that they have been enjoying administrative bail granted to them by EFCC before they were docked before the court.
He told the court that the accused persons will not jump bail because prior to their arrest and arraignment, they willingly honoured all the invitations extended to them by the EFCC.
But EFCC counsel, Mr. Rotimi Jacobs, objected to the motion for bail, saying that the accused counsel failed to place enough material before the court that will enable the court exercise its discretion in favour of the accused persons.
The trial judge however exercised his powers in favour of the accused persons and granted them bail in the sum of N10 million each.
In addition, the accused persons are also to produce two sureties each, one of who should be a level 14 civil servant.
The case was subsequently adjourned till 28 May and 4 June 2012 for trial.
By Nnamdi Felix/Abuja

Load more