Students of the Distance Learning of the University of Ibadan (UI) today peacefully protested on campus against several issues that affect them.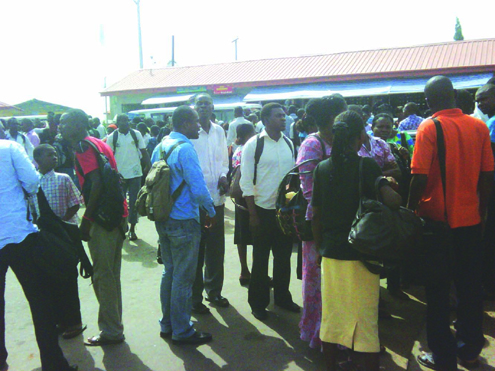 The protest followed the tragedy that occurred yesterday when three students were knocked down by a trailer driven by a reckless driver.
The affected students all from English Department are: Funke Kolapo, Adesope Demola and Lesley Salako.
The three students were coming from Academy of Knowledge, Ojoo area of the city, one of the centres the students of the Faculty of Arts receive lectures, when the trailer veered off the road and knocked them down.
Information revealed that the most injured student, Funke whose wedding is slated for next month, was to celebrate her birthday today.
Speaking during the protest, the victim's classmates, Emmanuel Kolade and Joseph Taiwo, disclosed that as a result of the accident, one of the legs of Funke was amputated at the University College Hospital (UCH) early this morning.
Kolade said that the other victim who has his ribs broken is going through some medical test and examinations for the medical teams to know what to do to the broken ribs.
Kolade accused the school authority of being insensitive to the plight of the students.
He complained about the forthcoming examination which they said is fraught with many problems.
He said: "They call the programme distance learning. This means that we ought to have collected our courses materials long ago, at least five months to when we will start interaction. The interaction is meant to provide us with opportunity to seek more clarification on what we have read that is not clear to us. But unfortunately, there are some course materials that we are yet to have it and we will sit for some of these courses we have neither received materials or the materials were received late."
Continuing, he said: "Go and see the timetable they just released for the examination. Some of us will be writing four papers in a day. Before you finish one, they have started another one. Some of us will start exam and will not stop writing until about 8pm."
He added: "is it not ridiculous that we paid for course materials but they did not give us any material? We paid almost three times what the regulars paid and they still treat us as if we are not human beings."
Joseph who could not control is emotion stated: "You need to see Funke now. Since they amputated her leg, she has been crying. This is a university where best brains are and they cannot run things well and it is these scholars that will be accusing politicians of maladministration and other things. Are they not worse than those they criticise?"
Commenting, UI ASUU Chairman, Dr. Josiah Olusegun Ajiboye assured that ASSU will step in to ensure that all the grievances of the students are addressed.
—Gbenro Adesina/Ibadan