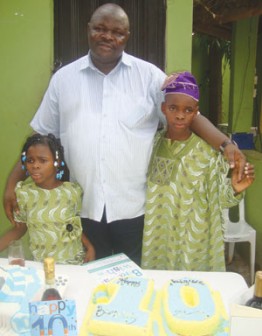 Benson Akindeju, the Chief Executive Officer of AK Media Concept, producer of television drama series, Family Ties, Face-2-Face and Nowhere To Be Found, was full of joy on Saturday, when his son, Babajide, clocked 10.
The birthday gig, which was held at the Akindeju's Ikorodu residence, was well attended by the crème de la crème of the society as well as friends and school mates of the celebrant. During the bash which started at about 4 p.m. till late in the evening, there was enough to eat and drink, while the disc jockey kept the dance floor alive with hit songs.
Other side attractions that added spice and glamour to the party include dance competitions and brain teasers and other games. Different packages of gift items were also distributed to guests. According to Big Ben, as Akindeju is fondly called, he decided to throw a lavish party to celebrate Babajide's 10th birthday because he has quite been outstanding morally and academically.
"Honestly, Jide is a very intelligent and morally upright child. At 10, you won't imagine his level of brilliance both in school and at home. Being an extremely good boy, one of the special ways to encourage him is to do what I have done. I have promised him that in as much as he continues to be a good child, I will not rest on my oars to make him happy, same thing with his sisters," Akindeju added.
—Bayo Adetu

Load more