The World Bank's directors met Monday to decide who will be the powerful institution's next chief. Just as has been predicted, the US maintained its unbroken lock on the position, with the election of Korean-American physician Jim Yong Kim as its next chief.
It was a decision that surprised few despite the first-ever challenge to the US lock on the Bank's presidency, by Nigeria's finance minister, Ngozi Okonjo Iweala.
The Bank's directors chose Kim, a 52 year old US health expert and educator, over Nigerian Okonjo-Iweala, who had argued that the huge lender needs reorientation under someone from the developing world.
Kim, 52 and currently president of the Ivy League University Dartmouth, will replace outgoing President Robert Zoellick, the former US diplomat who is departing in June at the end of his five-year term.
The Bank's directors expressed "deep appreciation" to Kim, Okonjo-Iweala and a third candidate, Colombian economist Jose Antonio Ocampo, who pulled out of the race Friday.
"Their candidacies enriched the discussion of the role of the president and of the World Bank Group's future direction," the Bank said in a statement.
"The final nominees received support from different member countries, which reflected the high caliber of the candidates."
Nevertheless, there had been little doubt about the choice of Kim, even as he breaks the pattern of American bankers and diplomats being named to lead the huge development bank.
By a longstanding pact Washington has chosen the head of the World Bank while Europe has held control of who leads its sister institution, the International Monetary Fund.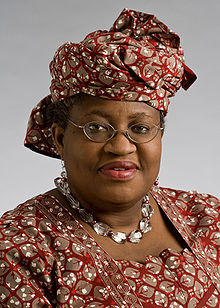 Every knowledgeable person about the bank's tradition knew that Ngozi Okonjo-Iweala, stands no chance against the US candidate.
After decades of Wall Street bankers and career Washington diplomats heading the World Bank, US doctor and anthropologist Jim Yong Kim brings the background of an outsider to the post.
Korean-born Kim, 52, has a resume that glitters with prestigious posts at Harvard Medical School and Brigham and Women's Hospital, among others.
But above all he is a renowned campaigner against the kind of global health problems that are often seen as nearly hopeless.
In the mid-1990s he worked in Peru to develop the first large-scale treatment of multidrug-resistant tuberculosis in a poor country, a program now run in some 40 other nations.
Between 2003 and 2007 he led a World Health Organization initiative to bring antiretroviral drugs to three million new HIV/AIDS patients in developing countries. Meanwhile a nonprofit he co-founded, called Partners in Health, works with impoverished communities everywhere from Haiti to Russia.
That work has brought Kim fame in academia and global health institutions, and finally to his most recent position, as the popular president of the small but prestigious Ivy League university — Dartmouth College.
But the bespectacled professor tapped by President Barack Obama to head the World Bank is an outsider in the Bretton Woods community.
Critics worry he might be overwhelmed by the World Bank's massive budget, bureaucracy and its economics-driven tradition to development.
Uri Dadush, a former World Bank economist who supported one of Kim's rival for the job, called his choice "risky".
As a medical doctor, "He is some who has too narrow a perspective," Dadush told AFP.
But the White House highlighted Kim's multicultural roots and background in science and development work to explain why he was a good choice.
Born in South Korea and brought by his parents to rural Muscatine, Iowa at the age of five, Kim grew up a high-achieving American immigrant.
He was a high school star in academics and sports with a dream to become a pro football star.
Kim's dentist father taught at Iowa University and his mother had a Ph.D. in philosophy, so not surprisingly he veered to more cerebral pursuits.
He graduated from prestigious Brown University, then Harvard Medical School, and finally earning a Harvard doctorate in anthropology.
Married to Younsook Lim, a pediatrician who has worked with HIV children in Africa, Kim talks movingly about his work in combating infectious diseases.
"The lowest points were back in the mid-1990s when we discovered all of these patients who were suffering from drug-resistant tuberculosis… sitting there in a slum in Lima, Peru, watching them die," he recalled in a television interview before his nomination.
In his global whistle-stop campaign to convince doubting countries of his potential at the Bank, Kim said his science training will help him make the Bank more responsive to the needs of developing countries.
"I will come with an open mind and apply my medical and social-science training to take an evidence-based approach," he said in a statement after being nominated by Obama.
"I have worked in villages where fewer than one in 10 adults could read or write, where preventable diseases cut lives short and where lack of infrastructure and capital held back entrepreneurs."
"In all those villages, the local people knew where improvement was needed."
During his candidacy, though, Kim said little concrete about the Bank and did not submit to any extensive media interviews or public appearances, unlike his rivals.
"In many ways Jim Yong Kim was the most interesting candidate, but also the least traditional, and the one that has to prove the most," said Daniel Bradlow, an American University specialist in international institutions.
"Given his background, you would have expected him to be open on his views on development, with NGOs for instance. In fact, he was the least open of all candidates."
Peter Chowla of the Bretton Woods Project, a coalition of critics of the Bank, called the choice of Kim rather than a banker or diplomat "a very small step forward" for the Bank.
"It's not clear that he would be a powerful reformer at the bank, particularly since he is going to owe his allegiance to the American government which put him in that position," said Chowla.