Human rights activists and lawyers in the country have hailed the conviction and sentencing of former Governor of Delta State, James Ibori to 13 years imprisonment in London, saying he deserves his fate.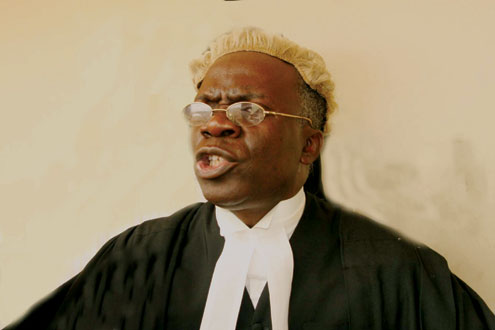 They also view Ibori's conviction as an indictment on the nation's judicial system which acquitted Ibori of same charges earlier on.
Speaking with P.M.NEWS, Constitutional lawyer, Prof. Itse Sagay said Ibori's sentence was in order, saying it was an indictment on the judge and the Attorney General that covered him from justice in Nigeria.
According to Sagay, if they had allowed justice to prevail in Nigeria, Ibori would not have gotten the harsh sentence he got in London.
"The sentence was harsh if compared to the one he would have gotten in Nigeria. If they had allowed things to happen in Nigeria, it will have been better and our dirty linen wouldn't have been washed outside," he said.
Lawyer and human rights activist, Femi Falana, in a television reaction castigated the Nigerian judiciary, wondering why such a character as Ibori could be acquitted despite all the evidences dangling before the court.
According to Falana, the court which declared him free in Delta state was actually built with money from two commissioners in the Emmanuel Uduaghan-led administration.
"Since the money for the building of the court was not part of the original budget for the year, one commissioner sold his own house to build the court and another one sold his house to build the Judge's quarters," he said.
Lagos lawyer, Giwa Amu, said the sentencing of Ibori is a welcome idea, adding that it is a slap on the Nigerian judicial system.
He said the fact that he was freed in Nigeria and sentenced in the UK was a clear message that the Nigerian judiciary must wake up to its responsibilities.
"Justice should not be for the highest bidder as it was seen in the Ibori case. It is also a warning to the country's leaders who have turned themselves to scavengers," he said.
Founder, Coalition Against Corrupt Leaders, CACOL, Debo Adeniran hailed the sentencing of Ibori in London, saying it was an eye opener for the present government that is paying lips service to the fight against corruption.
"It is a signal to the nation that we are not fighting corruption in Nigeria. Corruption does not pay and that the law will catch up with corrupt leaders.
"The criminal justice system in Nigeria needs to be overhauled. I am happy that he was given 13 years imprisonment; if it had been in Nigeria, the highest he will get is two years," he said.
According to Mr. Yinka Odumakin, a politician, "the jailing of Ibori is a clear indictment on our courts as the British Court put him behind bars.
"Thee whole world is laughing at us. When we list a candidate for the World Bank job, we need to strengthen our anti-graft war."
Activist and lawyer, Bamidele Aturu, while hailing the sentencing of Ibori, said it was a grave indictment on the nation's judiciary, administration of justice system and corruption machinery.
"This is a man who looted the treasury and he was found guilty abroad. It is a big shame and embarrassment on us.
"It is a wake up call to our judges, lawyers and the EFCC that Nigeria will no longer tolerate corruption. The judge who set him free in Nigeria should be prosecuted," he stated.
According to him, "this is a lesson to public officials who think that the common treasury is their personal property. These are big headed fellows who know nothing.
"They should also learn that the world is not safe for them. Wherever they hide their loots, the law will catch up with them."
Human rights lawyer, Festus Keyamo, said the judgement of the UK court against Ibori has exposed Nigeria's love for corruption and the weakness of the government to fight against it.
He said the country's government must hide its face in shame now, adding that as a major player in the fight against corruption, he understands that the country is faced with a hydra-headed challenge that is difficult to solve currently.
Keyamo recalled the case he has against the Comptroller-General of Customs, saying that everyone knows he forged his certificate but no one wants to summon the courage to say it.
"The government itself that is supposed to pilot the train of the anti-corruption is itself entrenched in corruption.
"Corruption begins right from the very top and the efforts you see by the government are just window-dressing, because when you are enmeshed in corruption, you would not have the moral will to fight it."
He also said the majority of the personnel in the anti-corruption agencies are corrupt and thus frustrate those who are not corrupt in their midst.
"The judge who has to decide your case earns pittance and has never heard of such an amount that you stole before.
"Also remember that appointment into the judiciary these days is by who you know as the majority of the people there came in through one politician or the other. It is a big problem we have on our hands!"
He said to solve this problem, the country's institutions must be strengthened rather than strengthen the individuals in the system so that those coming into the system with corrupt tendencies would be frustrated.
"Secondly, we must handle our electoral system correctly; these people do what they do because 85 per cent of public officials do not carry our mandate as such do not have the mandate to reciprocate.
"There must be radical criminal reform system to make sure there is no longer stay of proceedings in criminal cases. There must also be a timeline for criminal cases to be decided," he said.
National President, Campaign for Democracy, CD, Dr. Joe Okei-Odumakin said Ibori's sentence was an indictment "because a man given clean sheet in Nigeria was indicted in a foreign land and this shows the level of anti-corruption war in Nigeria.
"It is a fact that Nigeria is paying lips service to the fight against corruption. Power is transient and the law will get to public office holders who are corrupt.
"The whole world now knows that Ibori is a thief. Our anti-corruption drive must be strengthen and we must rise up."
Social critic, Abiodun Sowunmi, said Britain used the judgement to inform the Nigerian leaders that the country is no longer a safe haven for them.
He said the judgement had indicted even the Supreme Court, which threw out the late Gani Fawehinmi's suit against Ibori over his stealing.
He lamented that President Goodluck Jonathan does not have the courage to fight corruption, because by accepting a church gift, he had approved it in the system.
"See the case of Orji Uzor Kalu and Ayo Fayose; they have been in court before the Ibori case started and till now, there is no headway.
"As long as you move back to the PDP, your case is over," he lamented.
The majority of the lawyers who spoke to P.M.NEWS this morning applauded the judgement of the UK court that sentenced Ibori.
Barrister Supo Osewa said it is a serious dent on Nigeria's image as a nation and an embarrassment to Delta State.
Osewa said the judgement will serve as a deterrent to other public office holders who form the habit of looting the treasury while they are in government.
"Justice may be long, it may be delayed, justice shall come one day. Curses are like chicken, they will surely come home to roost," Barrister Osewa contended.
The former Secretary, Nigerian Bar Association, NBA, Lagos branch, Mr. Ike Uko in his reaction said: "It is a wake-up call. It means we are not good enough in the justice sector. Shoddy investigation, prosecution is not thorough, our judicial system needs to be reorganised. What the judgement portends for us is that we really need to overhaul our judicial system."
Another Lagos lawyer, Paul Ogundele said the judgement shows contradiction in Nigeria's judicial system, an indictment of the former Attorney-General of the Federation that single-handed truncated the prosecution of Ibori.
"The former AGF and other powers that be then conspired with Ibori to derail the course of justice. Now that the former Delta State governor has been convicted in England, it shows that there is problem in Nigeria's judicial system.
"Nigeria must learn a lot from this development," Ogundele submitted.
Barrister Ade Oyebamiji said: "It is a very big success to the war against corruption. It is going to have effect on the untouchable cows in this country.
"We have so many untouchable cows in Nigeria who, through legal means or the political system, have escaped being prosecuted of corruption charges.
"This is an open invitation to corrupt officials that their days are numbered."
A constitutional lawyer, Wahab Shittu, in his reaction said: "This is a veritable opportunity for Nigeria to look inwards particularly for effective way of enhancing our legal system in such a way to make it impossible for people who commit offence to escape justice."
Mr. Bayo Onifade said the judgement is a welcome development, stressing, "It would not have been possible to convict Ibori on money laundering charges as the depth of investigation would have been shallow if he were tried in Nigeria. But the UK were able to detect that Ibori brought illegal money into their system.
"I hope Nigeria will learn from this development. We should put machinery in motion to show that we are serious in fighting corruption."
—Akin Kupoyini, Kazeem Ugbodaga & Eromosele Ebhomele