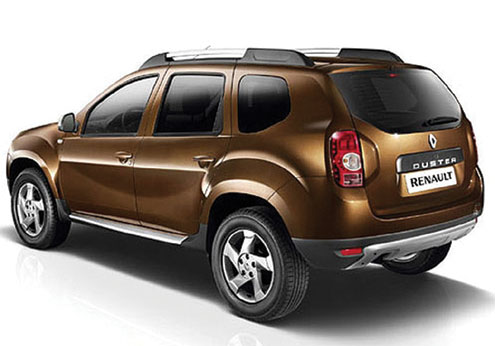 As part of efforts to consolidate on the gains of a major reorganization and repositioning concluded recently, a new entrant into Renault range of vehicles, Renault Duster, has been showcased in Lagos by Alliance Autos Nigeria Limited, a subsidiary of CFAO France and the official National Sales Centre (NSC) for Nissan and Renault products in Nigeria.
According to Mr Harpreet Arora, Renault Duster (among other Renault new offerings), combines a spacious interior with sedan comfort. The Duster has to its credit a high ground clearance that ensures it is as at home in and about town, as it is on country roads or off the beaten track.
Under its bonnet is a 1.6 16V 105 petrol engine which has already showcased its qualities in numerous other Renault models. This engine boasts particularly thrifty fuel consumption. The combined cycle fuel consumption of the 4×2 and 4×4 versions of Renault Duster 1.6 16V 105 is 7.5 and 7.9 litres/100km, respectively.
From the front, it exudes an impression of toughness: the wide wheel arches, the imposing lines of the chrome grille and the sump guard, clearly emphasize the essence of Renault Duster. With the Look Pack, owners of Renault Duster can enhance the vehicle's good looks. This pack includes 16-inch aluminium alloy wheels, roof bars, extra-tinted rear glass, and satin-finish chrome exterior mirrors, front and rear skid plates, and sills.
Inside, the dashboard is modern, uncluttered and functional. Its design varies according to version, and several areas can be modified with different colours or surface finishes. The vehicle comes exclusively with a new brown trim, while a leather pack (seats, steering wheel, gear lever knob) is also available. Particular attention has been paid to its ergonomics to ensure that the controls are conveniently positioned and that driving data is easy to read: the well-placed, intuitive 4×4 control button is a perfect example of this.
Arora disclosed that Renault Duster was designed to cope with all types of roads and tracks all over the world, especially in Nigeria. According to him, the 4×2 version has been designed for customers who want good ground clearance and a reassuring elevated driving position, as well as loose-surface ability, but who don't have a real need for all-wheel drive. It is built on the B0/Logan platform which is widely acclaimed for its strength, reliability and durability. To confirm its strength and reliability, Renault Duster covered the equivalent of four million kilometres in a wide range of climates and in particularly punishing conditions. The new six-speed TL8 gearbox with a short first ratio (5.79kph per 1,000 rpm) allows the vehicle to travel at very slow speed on uneven terrain, and improves performance as you pull away from standstill with heavy loads or on steep slopes.
Particular attention has been paid to anti-corrosion protection thanks to several measures, including wax-injected underbody and opening panel hollow sections, mastic sealing of exterior joints, additional wax treatment of underbody mechanical components, and stone chip protection for underbody, sills and wheel arches.
In order to underline its high build-quality, Arora assured that buyers would enjoy a very reliable after-sales back-up on Duster (and all Renault vehicles) from Alliance Autos and CFAO, which he explained, has been the hallmark of the group's auto business, and backed up by a warranty of three years or 100,000km in Nigeria.
Load more