When 12-year old Musa Ali began his football career on the streets of Lagos five years ago, only a few people believe that he could go professional in the game.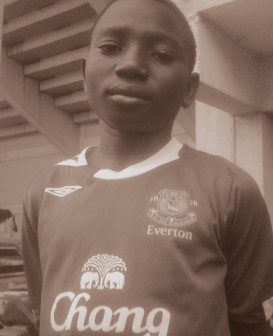 But that is his dream and to hone his skills in the game, the young boy joined Aspilla Academy at the age of seven. After playing for the club for about a year, he was hungry for more challenges in bigger clubs.
Having watched so many academies in Lagos on the field of play, he finally settled down with Damilola Taylor F. C in 2008 to improve on his career.
"When I got to Damilola Taylor, my game improved because I have been playing under Coach Suleiman Ahmed, who taught me the rudiments of the game. Today, people, especially grassroots football fans call me 'little Messi'. I don't know why they compare me with that great football icon, but I think they like my style of play," he said.
Musa is not only skillful but very creative on the ball. His passes are accurate; his move on the ball creates panic to the opponents everytime he features in a match. His presence in the team motivates his colleagues to go all out for victory against their football foes.
"I didn't realise that I play like Messi of Barcelona FC until people told me that I play like him. I feel honoured anyway", said Musa, who has won more than ten trophies since he joined the academy four years ago.
The dark skinned striker told P.M.Sports that he prefers to assist his teammates to score goals rather than scoring himself.
Musa believes that a good striker should know how to score and create chances for his teammates.
"My primary assignment on the field of play is to score and assist my teammates to score during games. I'm always glad each time my teammates score through my pass. I don't care if I score in a match or not but my ultimate goal is for the team to win all the time," he said
Musa, who attends Glory International School, Ebute-Metta in Lagos, Nigeria, could not hide his admiration for F C Barcelona. His ambition in life is to play for the Spanish league champions.
According to him, Barcelona have made football easy for any player that wants to make it big in the round leather game.
He said any player that watches Barcelona play in the Spanish League and UEFA Champions League, will understand that football is about team work and not an individual sport.
"It is the prayer of every young player to play in big clubs in Europe. FC Barcelona are a club of the moment and I, playing in the club in the future will be a dream come true for me,".
Musa expressed gratitude to God and his parents, who have been supporting him since he started his career and vowed to work hard so that he can play for Nigeria someday.
"I see myself playing for the Golden Eaglets in the future. I always receive praises from my admirers anytime I play for my club. So if I can continue like this, I believe I have a bright and rewarding future in my chosen. career," he concluded.
Load more