Globacom partnered with ace comedian, Gbenga Adeyinka, to thrill residents of Ibadan, Oyo State, during the Easter period.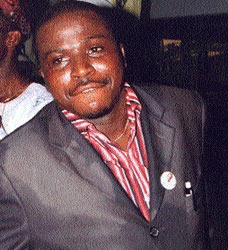 Gbenga Adeyinka and friends including Ali Baba, Lepacious Bose, Omo Baba, Jedi, Laff Up, Koffi, Peteru to entertain the audience numbering more than 3,000 people in each of the two shows held on Easter Monday.
Thousands of people gathered to catch fun at the event held at the multi-purpose Jogor Centre where there were entertainment and reward for subscribers on the Globacom network.
The show left inhabitants of the city with memories of a night when guards were lowered by both the lowly and the mighty to savour the sweetness of undiluted comedy interlaced with sonorous beats from renowned artistes.
Musicians, including 9ice, Eedris Abdulkareem, Kenny Saint Best, Ja Rule, Lord of Ajasa, Capital FEMI, Skuki and others gave the audience a night to remember for a long time as they did comedies and rhythms and beats that rang through the length and breadth of the city.
The excitement was all the more accentuated by the presence of notable personalities including the wife of the Governor of Oyo State, Mrs. Florence Ajimobi; Commissioner for Youth and Sports, Mr. Dapo Lam Adesina; Professor Laolu Ogunniyi, Mrs. Peju Omobolanle, Dele Odule, Ajimajasan, politicians and industrialists among others.
The Globacom Business Director, Globacom, West 1, Mr. lawrence Okpako,  said the company chose to partner with Gbenga Adeyinka  because Laffmatazz has become a big brand that has attracted the interest of a big brand like Globacom.
"The Easter season is meant to share love as epitomised by Jesus Christ who died for all mankind. It is in the spirit of this love that Globacom chose to reward its subscribers by entertaining them. It is also our company's way of partnering with giants in the comedy industry and encouraging upcoming artistes to externalise the talents that God has given them," he said.
—Daniels Ekugo

Load more