Kingsley, the second member of the defunct group KC Presh, is now in trouble following an alleged assault on a popular music producer and owner of Green Page Communications, Moshood Adegboro.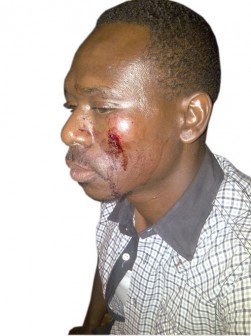 Adegboro alleged that Kinsley in company of about seven guys in a convoy of about five cars attacked him last Saturday at about 8.pm around Testing Ground bus stop, Alausa, Ikeja, Lagos, southwest Nigeria.
Narrating his ordeal, the popular music producer said: "I was on my way home on the day of the ugly incident and as I approached Alausa, I saw some cars through my inner mirror moving at top speed. Iinitially I thought they were armed robbers so I tried to avoid them and before I knew what was happening, one of the cars blocked mine and the guys came out of their cars and started hitting my car and by the time I came down they descended on me and beat me black and blue."
He said that what pained him most was that Kingsley who was the last person to come out of the car with a mobile police orderly kicked him several times, removed his side mirror and slam it on the ground, saying that I made him to hit one of the car in the convoy and screamed:"I for kill you today, and the convoy left at top speed."
Moshood Adegboro told PMEntertainment that he reported the incident at Alausa Police Station.
Kingsley who had denied assaulting Adegboro on a phone-in- programme on Wazobia FM, saying he thought Moshood was one of the area boys who wanted to extort money from him was sported at Alausa Police Station on Tuesday afternoon.
He was said to have been invited by the police.
A source at the station told PMEntertainment that Kingsley begged the police to plead on his behalf so that the matter could be resolved amicably but Moshood refused, saying he (Kingley) must go back on air to refute his claim.
When PmEntertainment called Kingsley on his Airtel mobile phone line, he denied being the one using the line.

Load more