Benson Akindeju, Chief Executive Officer, AK Media, known for its soap operas, speaks with NollywoodReel on high fees charged by television stations, sponsorship and the need for government support.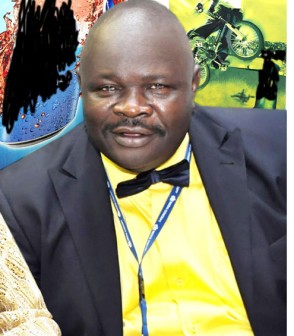 How have you managed to produce soap operas that have been popularly accepted?
Everyday in Nigeria you have to think of what can move you forward. We have challenges but we have stayed focused. Don't forget that when you are doing a particular business that has become lucrative, others will want to join the business and that's what has motivated us. We have to improve on what we are doing to stay ahead of the challenge. I remember when I was at Wale Adenuga Productions we didn't have a plethora of television soaps as we have it today. We have over a thousand soaps on air. That is why we have to produce stories that will draw people to their television sets and bring families together. We have a fantastic team. We work as a team in this organisation.
Is that one of the reason you have refused to produce movies?
The issue of home video is another thing. Our system does not really permit that because we don't have proper machinery and structure that will help us thrive. It's been very difficult to curb piracy. Pirates are not helping matters. It cost a lot of money to do a good home video, selling only one thousand copies will not fetch you the money you have invested. Pirates will produce over 100,000 of the films and its difficult to challenge them because they work with guns and bodyguards. Producers have tried to curb their activities but they've had little success. Most of the films sold along the road are pirated copies and that's one the reasons why I've not delved into home video production.
How has your organisation fared in terms of sponsorship?
I think our programmes speak for us. The sponsors are there but they look at what you are doing before they decide to invest or not. We thank God that at AK Media our programmes are being patronised. We have sponsors. What they pay might not be sufficient by our own standards but its good enough. We thank God we have sponsors and that have inspired and motivated us to better our previous works.
Is there any immediate plans to shoot a soap opera for the West African market?
I think every plan is in the hands of God. We do have plans to move on to other African countries because Nigerian soaps and movies are widely accepted across Africa and a lot of people have been talking to us from Ghana, Rwanda, Angola and other parts of the continent, to partner with us. But talks are ongoing.
We have a lot of Nigerians in the diaspora but your soaps are unavailable to them. What are the plans of streaming your soaps online?
We are already working on that. We have a company that is rigorously working on the online idea. That will make our soaps available to everyone and that will probably be next year.
What has been your major challenge since you started AK Media in 2005?
Our biggest challenge is the television stations. The money we spend in the past to record 13 episodes is not what we spend now. Initially, we spend about N1.5 million to produce 13 episodes but now it cost between N8m and N9million. After spending so much to produce these soaps, television stations will request for really huge sums of money. Some TV stations claim they have network when some don't have more than three or four stations across the country and they will keep claiming network. When they notice that we are interested in a particular belt because our clients want primetime for the soaps to be aired they will say that time is for network. You can't expect us to air soaps at noon. Our soaps are directed to the family and showing it at noon will not be proper. Our target audience is always available in the evenings.
How has it been for you to identify the right actors?
We work as a team here. Generally, we don't do auditions here, if we are going to do audition is because we have a scene or two that we need new faces to feature. We select the artistes as a team, no one individual can pick the artistes.
Has government policies affected your business since you started?
Government policies have not really affected us. We need the government to support what we do though. In western countries, the government assist producers to carry out their work. In Nigeria, the government and bank barely assists us to achieve our goals, I mean financially.
What has been your most embarrassing moment since you started soaps production?
The most embarrassing moment on this job is when you get an artiste to work for you on a particular soap opera, you discovered that after a couple of episodes the character wants to pull out. This is a sitcom and in sitcoms you need continuity. You need continuity because people become easily attracted to characters. Sometimes the artistes want an increase in pay because they have become popular; others claim they have a project elsewhere. When they do pull out you need to find another character and that is embarrassing. What we do is make belief and we need to maintain the standard.
—Bayo Adetu

Load more