President Goodluck Jonathan who is presently in Cote d'Ivore where he is attending an Extra-Ordinary Summit of Heads of State and Government of the Economic Community of West African States, ECOWAS, on the situation in Mali and Guinea-Bissau, has condemned Thursday's bombings of ThisDay offices in Kaduna and Abuja.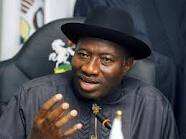 In a statement issued on his behalf by Reuben Abati, his spokesperson, the President described the attack as "ignoble, misguided, horrendous and wicked."
The President also reaffirmed the commitment of the Federal Government to continuously uphold the constitutional right to freedom of expression in general and of press freedom in particular.
President Jonathan therefore urged media practitioners not to be dissuaded from carrying out their fearless campaign for peace, justice and equity as democracy cannot flourish without press freedom.
He also pledged that criminal elements bent on instilling fear in the minds of Nigerians and foreigners living in the country will not succeed.
The President commiserated with the bereaved families and other innocent victims of the explosions and also prayed that Almighty God will grant them succour in their moment of grief and the souls of the departed, peaceful repose.
He further assured all Nigerians that the administration remains undeterred in its resolve to ensure the safety of life and property at all times.
Load more