The Gombe State University, Gombe, Northeast Nigeria was bombed yesterday night by a gang of armed men suspected to be members of Boko Haram.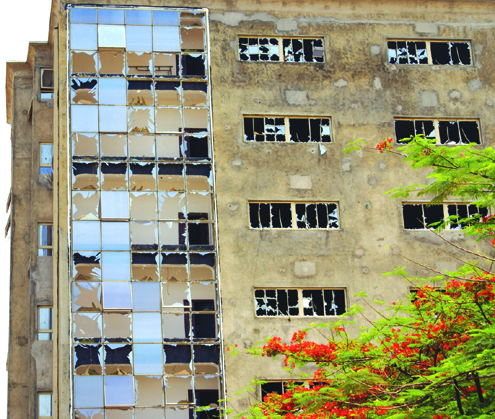 An eyewitness who is also a student of the university, told P.M.NEWS that the attackers beat the security network at the gate and entered into the university premises.
They were said to be inside two vehicles and they came at about 9 p.m.
The source added that the men numbering about eight and well armed parked their vehicles in the institution's premises. Thereafter they walked straight to the senate building and began shooting.
According to the eye witness, the attackers shot indiscriminately on the senate building for over 10 minutes to scare people away before they threw bomb into the building. The explosion brought down the major part of the senate building.
It was gathered that after bombing the senate building, the armed men shot indiscriminately at Gombe town while fleeing the area, to scare security operatives.
P.M.NEWS gathered that there was no loss of lives. But some students sustained minor injuries, while trying to escape from the scene of the bombing.
Efforts by P.M.NEWS to reach the State Police Commissioner, Alhaji Ibrahim Abdul to ascertain the casualty if any, yielded no results.
The attack occurred hours after ThisDay offices were bombed in Abuja and Kaduna yesterday. At least eight persons died in the attacks.
—Ben Adaji/Gombe