A Lagos cleric, Archbishop John Obi Okeke of God's Pentecostal Mission has been remanded in prison custody at Kirikiri Lagos State Southwest Nigeria.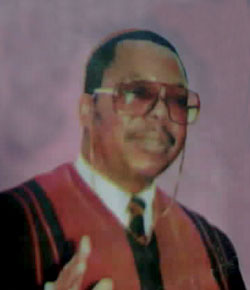 He was sent to prison after he was arraigned before an Ikeja High court over allegations of fraud and stealing by the Economic and Financial Crimes Commission, EFCC. The court refused to grant him bail after his counsel made an oral application for bail.
While his counsel was battling to convince the court to grant him bail on the initial matter of allegedly defrauding his church members of their property worth N150 million, EFCC opposed his bail on the ground that he was on the run because he defrauded another pastor, Prophet Samuel Chukwunyere to the tune of N7m.
The court had issued a warrant to arrest him.
In the counter affidavit dated 20 April 2012, deposed to by EFCC investigation officer, Alhaji Nma Adamu, he stated that the bishop was being investigated over another N7m fraud.
He stated that the bishop defauded another cleric, Prophet Samuel Chukwunyere and refused to show up.
He was arrested on the pulpit in his church at Iba, on the outskirts of Lagos in Ojo Local Government Area, by the police and handed over to EFCC after the court issued a warrant to arrest him.
He is facing a nine-count charge before Justice A. O. Opesanwo.
This followed a petition brought against him by directors of Immortal Impex, a company owned by members of his church.
According to the charge preferred against Okeke, he allegedly stole a parcel of land at Plot H1 along 2nd Avenue, Festac Town, with reference No. FHA/ EST/ 33 dated February 2003. EFCC counsel, Ben Obi had alleged that the cleric forged several documents and signatures of the directors of Immortal Impex to perpetrate the fraudulent act.
There was a twist in the bail application made by the defendant's counsel. When the matter came up last Friday both counsel made their submissions before the court whether to grant him bail or not.
The court reserved its ruling till 4 May 2012, while he was remanded in custody at Kirikiri, Apapa, Lagos, where he had been for he past one month.