Former governor of Kwara State, Senator Bukola Saraki will report at the Special Fraud Unit, SFU, Milverton Road, Ikoyi, Lagos, Southwest Nigeria tomorrow.
P.M.NEWS gathered that Saraki will be in Lagos in connection with the allegation of N21 billion rocking Joy Petroleum, said to be his company.
He was expected at SFU Lagos on Monday, he did not show up, but reported at the Force Headquarters, Abuja, where sources said investigation has commenced into the allegation against him.
While Saraki was reporting at the Force Headquarters, Abuja on Monday, his supporters made a mockery of his invitation when they turned the gate of SFU office into a political carnival where they carried placards with various inscription absolving their benefactor of any wrong doing and returning a verdict of innocence.
Led by the Chief Press Secretary to Kwara State governor, Mr. Wahab Oba, commissioners, market women who came to Lagos in 10 Toyota Hiace buses, Saraki's supporters carried aloft portraits of their man while chantting solidarity songs in support of the former governor.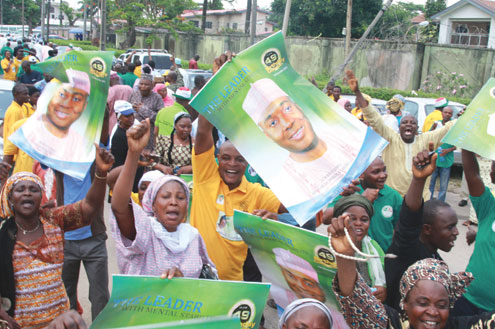 An online news portal, Premium Times reports that when Saraki reported at the Force Headquarters in Abuja on Monday, he was grilled by police detectives for about an hour.
Police spokesperson Frank Mba in an email interview said Senator Saraki was granted bail and was ordered to report in Lagos on Thursday for further interrogation as the investigation was ongoing.
The Commissioner of Police in charge of SFU, Mr. Johnson Ayotunde Ogunsakin who spoke to P.M.NEWS today also confirmed that Saraki will report at the SFU in Lagos on Thursday.
He also confirmed to our correspondent that when Saraki reported at the Force Headquarters, Abuja on Monday, he was quizzed by police detectives but he was later released on bail same day.
P.M.NEWS learnt that Saraki returned to his Abuja home after he was granted bail.
Saraki was declared wanted by the police last Saturday when he declined to show up for interrogation since the past two weeks. The police threatened to use maximum force to arrest him after they had secured a court order to arrest him on Friday.
Saraki is believed to have allegedly obtained a loan of N21 billion from the defunct Intercontinental Bank through Joy Petroleum, a proxy company owned by his late aide, Matthew Obahor.
Saraki had last week filed a suit through his counsel, Saka Isiaku and Lawal Rabana urging the court to restrain the police from arresting him.
But the presiding judge, Justice Gladys Olotu ruled against him. While aligning with the argument of the police counsel, Femi Falana, Justice Olotu held that regardless of Saraki's rights to liberty, the police have the power to arrest, investigate and prosecute him based on reasonable suspicion that he has committed a criminal offence.
In a press statement issued by his media aide, Saraki, representing Kwara Central Senatorial District, denied any involvement in the scam.
—Oluwole Adeboye