Officials of the National Drug Law Enforcement Agency, NDLEA, have arrested a 43-year old trader in connection with illicit smuggling of heroin, the agency said yesterday.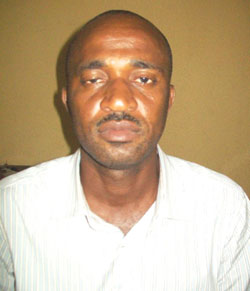 NDLEA said the suspect, Mr. Nnadume Jude Ewelle, was apprehended with 500 grammes of heroin at the Murtala Muhammed International Airport, MMIA, Lagos, southwest Nigeria, as he was about boarding a Lufthansa flight to the United States.
"Nnadume Jude Ewelle was found with 30 wraps of heroin hidden in the breast pocket of his jacket which was inside his hand luggage. We also found two tickets with him. Apart from the valid ticket to the United States, there was also a fake Turkish Airline ticket indicating Lagos to Pakistan. This was to divert attention from him taking drugs into United States," NDLEA quoted Hamza Umar, the agency's airport commander as saying that
"During interrogation, Nnadume said that he wanted to raise money for his business and that he had no helper. While attempting to justify his criminal act, the suspect said that Customs officials impounded his goods worth N10 million," Mitchell Ofoyeju, NDLEA Head of Public Affairs said in a statement.
He quoted the suspect as lamenting: "I have suffered several setbacks in life. My major problem was when Customs officials impounded my containers of fairly used tyres worth N10 million. This trip was to enable me make some good money for my business."
NDLEA said that Nnadume is married with a child, adding that he attended Agulu-Awka Primary School, Awka, where he left in 1983.
"The suspect sells shirts at Onitsha main market. He made his first trip to the United States in 2010. Nnadume had also lived in France for five years in search of better conditions of living," NDLEA said.
—Simon Ateba