John Cena appeared to have injured his left arm during his match with Brock Lesnar at Extreme Rules Pay-Per-View bout, and hinted that he may be leaving for awhile.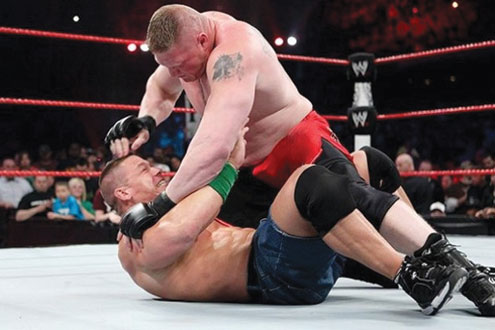 After defeating the former UFC heavyweight champion at the event, Cena took the mic and addressed the crowd.
"I'm probably going to get sent home for speaking when I'm not spoken to, but I think I'm headed home anyway," Cena said after the match. "And if I know my boss, he's going to kick me out of the door, but he's going to do it on air, so I hope this is for the world to see."
"Chicago, I know this is CM Punk's town, but above all else, this is a wrestling town. Tonight, you people were supposed to see the extreme. I've got no left arm, I'm tasting my own blood… and I'm damn proud to say it was in Chicago, IL."
"All of us, good guys, bad guys, big guys, small guys, all of us give everything we have every night for you guys. And if I gotta take a vacation, so be it. If I'm going away for a while, I just wanna say thanks for one hell of a last ride.
"I feel great tonight, even with this Chicago crowd that may or may not like me. I listen to that and I think, if I'm going out, I wouldn't want to do it any other way! Thank you guys, go home safe!"
While heading to the back, Cena told officials that he couldn't move his arm, but he knows it's not torn.
Meanwhile,WWE.com has learned that the Cenation leader suffered an injured left arm in his Extreme Rules Match against the wrecking machine at Extreme Rules in Chicago.
Lesnar made it a point to punish Cena's arm in their hotly anticipated bout in Chicago's sold-out Allstate Arena, trapping his arm in a Kimura Lock halfway through their show-stopping clash. And while Cena – who also took an elbow in the opening moments of the match that split his head open – beat Lesnar by a narrow margin with an Attitude Adjustment on the steel steps, it appears he has ended up the worse for wear despite the victory.
"The most obvious injury was the laceration to his head, which caused a substantial amount of bleeding," said WWE locker room physician Dr. Chris Amann. "He also has suffered a shoulder injury. Initial testing in the training room leads me to believe there may be torn muscles, possibly a torn rotator cuff or a biceps muscle."
Unfortunately, there are no specifics available as to the extent of Cena's condition, although he is still scheduled to appear Raw SuperShow. Dr. Amann told WWE.com reporters that doctors would be conducting additional tests on him to determine the full scope of Cena's injuries.

Load more