As career decisions go, joining an employer just three months before they are plunged into administration would generally be regarded as wretched timing and dismally bad luck.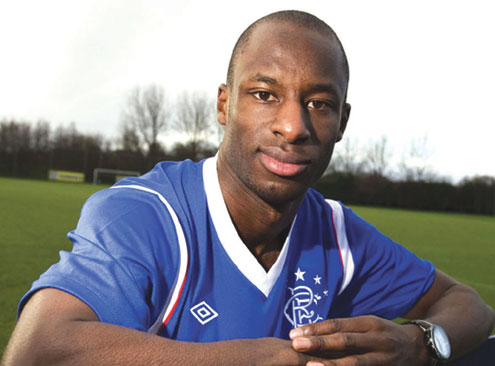 Sone Aluko, however, still regards his move to Rangers last November in the most positive light despite the crisis currently gripping the club which places the future of all its employees in doubt. "I don't have any regrets about coming here," insisted the 23-year-old Nigerian winger, whose performances have provided some of the few bright spots in a dismal campaign for Rangers.
"In terms of a football decision, it's been a great one for me. It has given me a great platform to play on. If I'd told you last summer that by this time I would have scored seven goals for Rangers, including one in an Old Firm game, and been in the team every week, then most people would have laughed. So, for me, it's a no-brainer. Joining Rangers was a great decision.
"I couldn't have envisaged what was ahead of me when I signed here, no-one could. You wouldn't think a club this size would find itself in this situation. But it's football and we have to deal with it.
"This club means a lot to me now. You can't play for Rangers and not be taken in by it. There's a bit of a romantic element to playing for Rangers and I don't take it for granted. Everyone wants to sort their future out but it's not something that worries me. Even last summer, I wanted to get back into football after leaving Aberdeen, but I stayed calm to ensure I made the right decision. I've had a good season here so I won't be panicked into thinking about the summer. Of course, I'd rather be playing SPL football with Rangers next season. If it was the SFL, as has been spoken about, every player would look at that situation when it happens."
Aluko may be pressed into service as a striker, with both Lee McCulloch and Andrew Little having picked up minor injuries in Sunday's 3-0 Old Firm defeat at Celtic Park. Kyle Lafferty remains under a suspension imposed by manager Ally McCoist for a breach of club discipline, while Steven Naismith is not yet ready to return from injury.
Ally McCoist insists Rangers will treat their remaining three SPL games seriously, both for personal pride and for the other top six clubs below them who are pursuing European football. "We've also got to represent the other teams that are going for third place if we finish second," he said. "Out of respect for everybody, we've got to go out there and do our best. The fans will demand, as they always do, that they get effort and a performance from the boys. We'll be playing for pride, our support, who I think have been fantastic in recent months, and for each other. There's everything to play for."
Dundee United manager Peter Houston, meanwhile, believes a positive start is key to his side securing another Ibrox victory night as they bid to follow up February's impressive 2-0 Scottish Cup fifth-round triumph over McCoist's men.
Gavin Gunning's header saw United race into a 16th-minute lead that day and Houston said: "I think the key is always going in front when you go to a place like Ibrox. Before the last game at Ibrox I mentioned to the players that you have to take your chances when they come along. When we lost 3-1 at Ibrox in the league earlier in the season, we had actually started really well but not taken our chances despite having a few. Then, at the other end, [Nikica] Jelavic goes up and scores with probably Rangers' first chance.
"I think again it will go down to the same scenario, that if we can get a goal and get in front it would be great."
United are still chasing Motherwell for that coveted Champions League slot and Houston knows it will be far from easy winning in Govan despite Rangers' on-going problems. He said: "We're talking here about going to the home of the team that's second in the league with a good points tally. We don't fear it, though. We'll have a go as we usually do."

Load more