Super Falcons player, Maureen Mmadu, born on 7 May 1977 in Onitsha, Anambra State; once played for Linköpings FC in the Swedish Women's First Division Damallsvenskan. She is the captain of Avaldsnes, a Division One team on Norway's West Coast.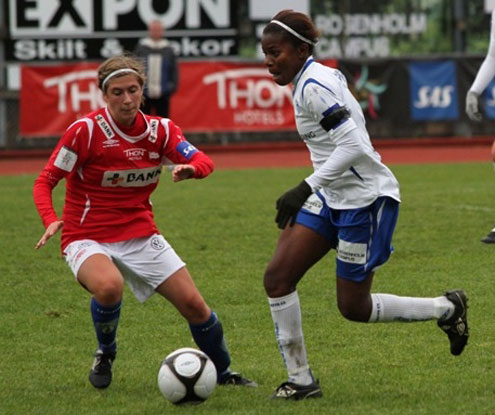 She previously played for Klepp IL in the Norwegian Toppserien. Mmadu played for Kolbotn IL in Oslo, Norway, for the 2010 season, helping them to clinch 3rd place in the Toppserien League.
She has made more than 100 appearances for Nigeria, including appearing at four FIFA Women's World Cups and has competed in the 2000 and 2004 Summer Olympics with a huge resume; it would surprise many to know that her late mother never wanted her to play football.
Mmadu, who would clock 35 years in a matter of days, disclosed in an online chat with P.M.Sports from her base in Norway that she would be celebrating with some of her teammates.
Unlike some of her teammates, who enjoyed the support and encouragement of their parents, same could not be said of Mmadu. She disclosed that her late mother was always chastising her whenever she sees her playing football on the streets with the male folks.
According to her 'I started playing on the street with boys when I was young but my late mother never liked it as she would always warn me against playing football. I didnt grow up with a silver spoon, but she did her best by trying very hard for us, at least we didn't lack anything but I thank God that my stubbornness paid off. Whenever I look back, I have cause to praise God".
The Nigeria Football Federation, NFF may have appointed Coach Kadiri Ikhana as Uche Eucharia's successor, but Mmadu is of the view that ex-internationals, especially women would have handled the team better than a male coach.
'I don't know Coach Ikhana well but I think the NFF would have given the Job to ex-players like Florence Omagbemi and Mercy Akide-Udoh. It's a shame but all the same, the NFF knows why they gave him the job. I think everyone should support him and see how far he can go. For me, I wish him good luck, all I want is to see the Super Falcons soar higher again".
While taking a cursory look at the state of female football in the country and the performance of Nigeria's female teams in recent time, she attributed the decline to poor administration, blaming the NFF for always employing a fire brigade approach in preparing teams for international tournaments.
In her words "The NFF should change the attitude of dragging players to camp two weeks before any top competition.
The officials should invite players to camp in good time to assess them on regular basis. A month camping is an ideal period for the players and the officials should keep monitoring them even when there is no competition".
On the issue of alleged lesbianism in the Super Falcons she responded thus "I dont think lesbianism existed there because I never experienced or heard of it before those spreading such rumours are just saying what they like".
She hinted that after she calls it quit with football she would take up a coaching job in Nigeria, though she is a coach player adding "I just want to concentrate in helping young players, because I have a foundation I am runnning with a friend from Canada, I hope to be part of it fully when I quit playing".
—Adebobola Alawode

Load more