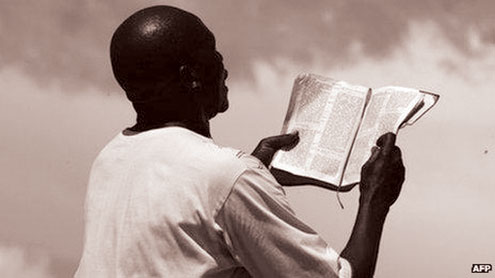 African journalists, writer Sola Odunfa explores the rising popularity of prophecy-making.
Some years ago a man knocked on the door of the first-floor apartment of a seemingly lonely elderly woman in the city of Ibadan, about 120km (75 miles) from Lagos.
From the corridor he introduced himself as a prophet – "a messenger of God" is the phrase he used.
That introduction was the magic key.
The woman opened the door and invited the man in the flowing white cassock into her living room.
She was happy – not only to have a companion who was not in a hurry to leave but also to share religious knowledge with an anointed person.
About an hour into their discussion, the prophet introduced what must have motivated his visit.
He told the woman that he had a divine message for her.
Her first son could die before his 40th birthday, which was about five years away – unless she prayed fervently.
The mother was badly shaken.
She went into a prayer session with the man – and at the end she made a handsome financial donation towards his ministry.
Several prayer sessions with the prophet and nearly a month later, she had the courage to tell her son the "prophecy".
She was shocked by his reaction.
"Mama," he told her, "I've warned you against all these crooks who introduce themselves to you as prophets and end up taking your money.
"Next time he comes, tell him I will not only clock 40 but I will also celebrate 70 – and all in good health."
The next weekend, the son went back to his mother's house – and there was the prophet.
The man did not know what fell on him when the young man rushed at him and physically threw him out of the house.
Needless to say, that was the prophet's last call there.
I know the story very well – because it happened within my family.
The prophet had made a serious mistake.
He could have milked the woman much longer – if only he had not been so specific in his "prophecy" but rather kept it vague, saying that one of her children may be approached by death.
Anyway, the story ended well – and that young man is planning his 70th birthday party.
I dare say that Nigerians are no strangers to prophets.
Until a few years ago, television stations across the country were filled with their miracles and prophecies of doom.
But a public uproar forced Nigeria's National Broadcasting Commission to ban the broadcasts – under threat of criminal prosecution.
Where in the civilized world would anyone raise a storm with a prophecy that "one prominent politician will die of sickness this year"?
To me such a statement is like those astrology columns in newspapers – harmless fun.
That is my personal opinion.
Those Nigerians who believe in – and regulate their lives with miracles and prophecies – are free to do so.
It is their life – although now they have to leave our national TV stations and go on the internet to shop for their Aids-healing prophets.
One of Africa's more famous – and controversial – "prophet personalities" is Temitope Balogun Joshua, commonly known as as TB Joshua.
The 48-year-old Nigerian is the head of The Synagogue, Church of All Nations, one of the biggest in Lagos, which operates a TV station streamed on the internet.
A recent surge in his popularity, mainly in southern Africa, is said to be because of his February "prophecy" in which he said:
Did TB Joshua prophesy the death of Malawi's President Bingu wa Mutharika?
"We should pray for one African head of state – president – against sickness that will likely take life.
"It is a sickness for a long time – being kept in the body for a long time.
"God showed me the country and the place but I am not here to say anything like that.
"I am still praying to God to deliver the president concerned."
How clever. And deliberately vague. There is no name, no country – so it cannot be wrong.
There were at least six ageing leaders, not counting Nelson Mandela.
Surely at least one of them was likely to die naturally.
If he died, it was because the prophet said so – and if he did not, it was because the prophet's prayers saved him.
In Lagos, we call a person who would make such a prophecy, "Sharp Boy".