Thousands of Lagosians this morning barricaded the main road leading into the Lagos State House of Assembly blocking the Speaker of the Assembly, Adeyemi Ikuforiji, from entering into the complex until he addressed them.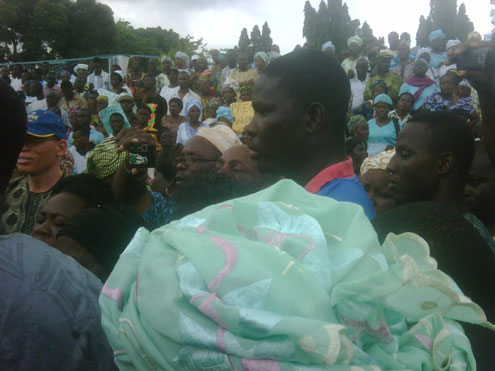 Their grouse was that the continued strike embarked upon by medical doctors in the state had taken a toll on the residents of the state.
They carried placards with various inscriptions calling on the doctors to immediately return to work or face the wrath of the people.
One of the protesters, Sesan Sobande, who spoke on behalf of others, told the lawmakers present that the residents of the state could no longer bear the health challenges they have been forced to face since the strike action began last week.
He said the residents had come out in support of the state government since they have now realised that the doctors were greedy in their demands.
Another woman among the protesters also said that the residents had decided that the doctors should not be paid their salaries until they brought back the lives of those lost to the strike action.
She said she was at the Lagos State university Teaching Hospital, Ikeja, yesterday when some parents brought in their child.
"I saw a doctor who refused to attend to the man who was already in coma. Several appeals to him fell on deaf ears.
"He told us they were on strike and as a result, would not touch the man till the man died," she said.
She further urged the House to immediately wade into the crisis because the situation had become uncontrollable, adding that Lagos hospitals were some of the best in the country but that the doctors were being careless.
She also accused the doctors of operating private hospitals, adding that they were fund of directing patients to such hospitals.
Speaker Ikuforiji, while reacting, promised that the House would spend the weekend resolving the crisis.
"We would invite both parties and anyone that refuses to come would be declared persona non grata in the state.
"We are aware how much the state government has spent on the hospitals and would not allow them to waste away," he said.
He promised that by Monday, the crisis should have been resolved.
—Eromosele Ebhomele

Load more