President of Nigerian Olympic Committee, NOC, Engr. Sani Ndanusa in this chat with DAMILARE OKUNOLA, bares his mind on the country's chances of winning medals at the London 2012 Olympic Games among other issues.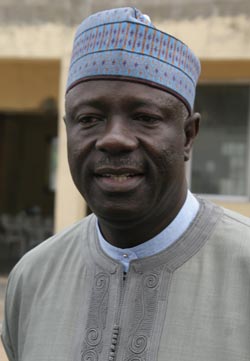 What should Nigerians be expecting from Team Nigeria at the forthcoming Olympic Games in London?
Firstly, I must say that we should expect a very good outing. We've put so many things in place for the athletes to perform to the maximum level. Another thing that has been put in place is getting Nigerians to participate in the Games as well. We've also ensured that the various training camps are filled with enough training kits to ensure that they are in shape before the games start. With everything we've put in place, we're sure Team Nigeria will perform very well in London.
Some people have argued that preparations for Olympic Games should take longer period than what athletes are used to in Nigeria, what does this bode for our prospect of winning medals for the country?
The Olympic Games is for the best in the World and to win gold medals at the tournament, you must be at your very best. The training should be right, the facilities should be right, the psychology should be right and the diet should be also be right. Preparation should take up to eight years if we have to be realistic but in Nigeria, we are lucky to have very talented youths. That's why we've been able to perform very well at the Olympics with little preparation. However, from now on, preparations for the Olympics will change. We'll participate in world tournaments to help these athletes rub shoulders with the world's best athletes in their various sports. It's already on our calendar in the NSC to ensure that our athletes participate in international tournaments to keep them in proper shape prior to the next Games. We also need to develop high performance facilities to be able to compete with our foreign counterparts.
Swimming is one of the sports which has many medals at the Olympic Games and Nigeria has very good swimmers, but still go to South Africa to train because of poor facilities, what's the NOC doing about it?
That's why I told you that we're looking at developing high performance facilities. This will give us access to world class coaches including laboratories, where we can carry out tests when the need for such arises. And like I said, it's not going to be business as usual after this Olympic Games. There are so many world-class competitions coming up and we're preparing to attend those tournaments as they'll help our players to develop into world champions. We have the Commonwealth Games and the Junior Commonwealth alongside other tourneys in the World.
Nigeria won't be competing in tennis at the Olympics because the nation doesn't have a player in the top hundred in the world, what happened?
That's true because the players have to see through some ATP tours and some other tournaments to gather enough points to compete at the Olympics. But we've not been fortunate to have that in recent past. The way we can achieve that is by getting an academy, where they'll play tennis all day. An academy where the only thing the players do is to play tennis, they'll feed appropriately as tennis players and also get the basic techniques on how to play tennis. I can assure Nigerian that we're working to get the academy in place. Another plus for us is the fact that our wheelchair tennis players have done us proud. We started barely five years ago and at the moment, we have players who are world beaters already. The icing on the cake is that wheelchair tennis will be in London later this year.