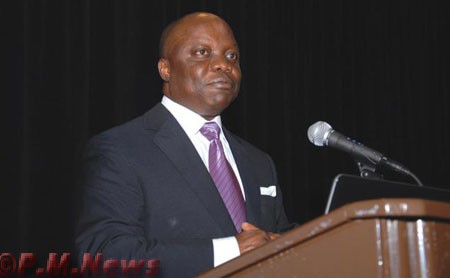 Dr. Emmanuel Uduaghan, the Governor of Delta State, southsouth Nigeria, was today in Port Harcourt, elected as the new Chairman of the Governors of the nine states covered by the Niger Delta Development Commission, NDDC.
Uduaghan succeeds Chibuike Amaechi of Rivers State, who had doubled as the Chairman of Governors' Forum and Chairman of Nine Governors of NDDC states.
The new Chairman NDDC state Governors was elected during an extra-ordinary meeting held at Government House, Port Harcourt.
In a brief valedictory address to a section of the press shortly after the meeting in the Government House, Governor Amaechi said that part of the marching orders given to the Board and Management of NDDC is to focus on completing all the existing on-going projects rather starting new ones.
The meeting which was attended by eight governors, excluding Comrade Adams Oshiomole of Edo state, also had Dr Chris Oboh, the Managing Director of NDDC and members of the management team in attendance.
Uduaghan also confirmed the nine governors have directed NDDC to concentrate on executing major regional projects like Power supply and Railway that would enhance the economic fortunes of the people of the region.
"They should focus on budgeting on project that will enhance the economy of the region like rail and power supply rather than erecting solar powered street lights across the NDDC states," Uduaghan said.
By Okafor Ofiebor/Port Harcourt

Load more