Susan Bimpe Harvey, Nigerian Afro-Pop star better known as Goldie was last night officially the first celebrity to walk into the newly designed Big Brother House as the seventh edition of the hit reality television show, Big Brother StarGame, began in Johannesburg, South Africa.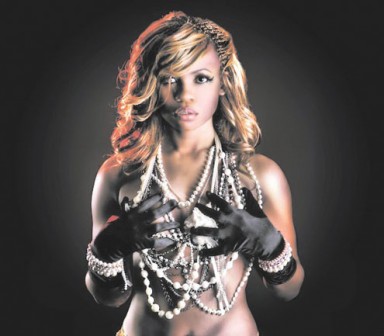 The fizzy singer, who was unveiled alongside six other fascinating celebrities selected across Africa, at a glittering opening ceremony held inside the Sasani Studios, Kew, Balfour Park, Johannesburg, received a loud ovation as she was invited on stage by the series host, IK Osakioduwa, Nigerian-born on air personality.
Goldie, who alongside her celebrity housemates and 28 other housemates consisting of two pairs, are bent on capturing the attention of the entire continent in a show that promises to spring a lot of surprises.
Joining the music star at the upville section of the house are DKB, Ghanaian stand-up comedian and television pro, Kenya's rap icon Prezzo, Lady May, an award-winning songstress from Namibia, famed socialite, model and businesswoman Barbz from South Africa, R&B diva Mampi from Zambia and soulful musician Roki from Zimbabwe.
Goldie and other stars made their grand entrance at exactly 8pm (South African time). They will be competing with 14 other couples announced yesterday. The names include Nigerian's Ola and Chris, Angola's Seydou and Esperanca and Edith and Eve from Botswana.
Others are Wilfred and Keitta, who have been dating for more than a year now, Alex and Malouza, Yadel and Luke are just friends in Lagos.
Others include playful Wafe and Wati from Walawi, Jamia and Jessica from Namibian are coming as friends in the starGame show, Dalphin and Zainab from Sierra Leone, Hilda and Julio, Jennatte and Kyle from Uganda, Tamara and Tahia, two pretty sisters from Zambia, Maneta and Teclar are from Zimbabwe.
Biola Alabi, Managing Director, M-Net Africa, expressed her gratitude to all over the huge response the series has received, as well as the hype built around the show.
"It's super to see the high level of interaction STARGAME is getting from fans, media and viewers. The guessing around who the housemates will be; people trying to work out what Biggie is planning; the rumors and the speculation; it all adds to the excitement. It's great for the show to get this type of support from the Big Brother community who really do engage with it, even before it starts on air. I want to thank them and promise that we're working hard to deliver a great series," Alabi assured.
And with a $300 000 winner prize on the table and a new format that sees contestants doubling up to play, the 91 day super-series has already shaped up to be an exciting entertainment with latest twist to take the game to an entirely different level.
This year's edition of Big Brother with the theme StarGame, will see these stars slug it out with the doubles theme.
Goldie famed for her avant garde dress-sense and music videos is currently signed to Kennis Music label where she released her album in 2011 which had hit tracks such as 'You Know It', 'Jawo Jawo' and 'Don't touch my body'.
The show is headline sponsored by Coca-Cola and produced for M-Net's AfricaMagic by Endemol South Africa.
—Funsho Arogundade/Jo'burg

Load more