Despite the uncertainty that surrounds their participation at this year's National Sports Festival, the Lagos State Shooting Federation, LSSF, have promised their fans and the Lagos State Sports Council of five gold medals if they are allowed to feature at the multi-sports championship.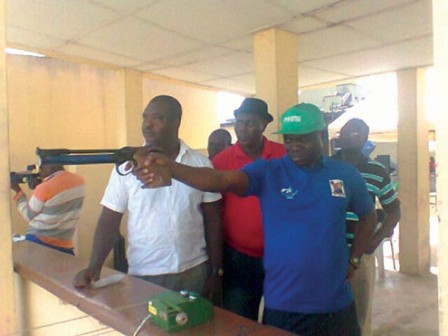 While speaking at the weekend, the Technical Director of Lagos State Shooting Federation, Abidemi Adeboye, said with the present level of preparation of the Lagos State shooters, they are sure of winning 5 out of the 8 gold medals available in the shooting event of the sports festival.
"We are working hard to ensure that our shooters are in top form in case we are called to take part at the Sports Festival, if the sport is cleared amongst the medal-winning sports.
"We recently held an inter-clubs championship in the shoooting range at the Rowe Park in Yaba, Lagos, and we hope to organise another tourney in a couple of weeks to keep our shooters in a competitive mood before the festival holds in November.
"With all these preparations and the calibre of players we have in Lagos State, I can assure our fans and the Sports Council that we are sure of winning 5 gold medals for Lagos State out of the 8 gold medals available at the National Sports Festival, if we are given the chance to compete," Adeboye said.
The former politician turned sports administrator, further said that Shooting is an optional sport in the festival and its inclusion at this year's edition, tagged at Eko Sports Festival slated for November, will depend on the choice of the hosting state's Local Organising Committee, LOC.
He said: "Shooting is an optional sport as far as the policy of the National Sports Festival is concerned. However, it depends on the LOC to decide weather to include the sport among the ones that will feature at the festival or not.
"Lagos State, as hosts of the festival, also enjoys the privilege to stage only the sports that they feel they can win medals."
—Bamidele Olowosagba