British sprinter, Harry Aikines-Aryeetey has predicted that Usain Bolt could break his own world record at this year's Olympic Games.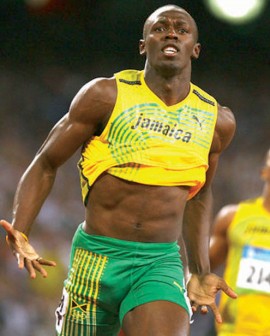 Aikines-Aryeetey believes the Mondo track in use at the stadium is quick enough for Jamaican superstar Bolt to better the time of 9.58 seconds he set in winning World Championship gold in Berlin in 2009.
After competing three times on the track in winning the 100 metres title at the British Universities and Colleges Sport (BUCS) championships, Loughborough student Aikines-Aryeetey said: "Oh it's fast. It's very, very fast.
"Wherever I run I like to do a ball test. I take a cricket ball and just bounce it on the normal track and the Mondo track.
"On a normal track it bounces to knee height. On a Mondo it comes up to your hip, so everything you put into it you get back out. There's no excuse not to run fast on it."
Asked if that meant triple Olympic champion Bolt could break his record in London, the 23-year-old added: "You'd imagine so.
"If he's in that shape and in that mood and there's a bit of sunshine, I think the track is ready for that. It's definitely going to be a fast Olympics, no doubt. It's the fastest Mondo there is. It's a very nice track."