There seems to be no end in sight for Nigeria's continued drop on the monthly FIFA Ranking, as the country once again dropped by three spots in the May ranking released from FIFA headquarters in Zurich, Switzerland, today.
Nigeria, who were ranked 60 before the ranking was released by FIFA dropped three spots to 63rd, while Zambia, Cote d'Ivoire, Ghana, Algeria, Mali and Gabon still maintain their previous positions in the world and Africa rankings.
With a total of 537 points, Nigeria now ranked 12th in Africa as against her previous ninth position occupied in the last ranking released in April.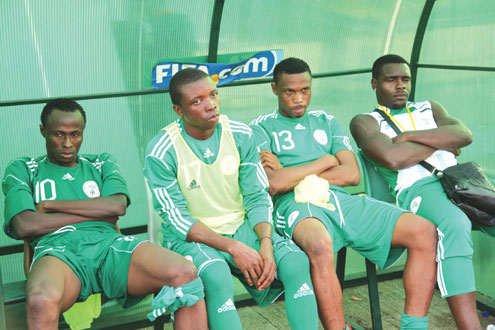 Ivory Coast is the highest ranked African country on 15th position with 951 points, closely followed by Ghana who is second in Africa and 22nd in the World with 816 points.
Interestingly, Nigeria's opponents, Egypt, in the international friendly match played in Dubai last month, did not gain any point from their 3-2 victory over the Super Eagles as the Pharaohs also dropped two places, and are now ranked 57th in the world and ninth in Africa.
Spain still remain the best football team in the world as the current World Cup winners maintained their first position with 1,442 points, closely followed by Germany with 1,345 points and South American champions, Uruguay, with her all-time high of 1,309 points, as the third best team in the world.
Only eight international matches were taken into account for the April edition of the FIFA/Coca-Cola World Ranking.
Since 1994 that Nigeria was ranked fifth in the World, the country has not come close to the top on the Ranking.
However, former Super Eagles Goalkeeper, Dosu Joseph has advised Nigerians not to be bothered with the latest FIFA Ranking, saying the national teams position will improve as the team step up their games both in international matches and World Cup qualifying series.
—Bamidele Olowosagba
Load more