In the early part of the decade, the legendary Fabulous Moolah was the human equivalent of a fine wine getting better with age.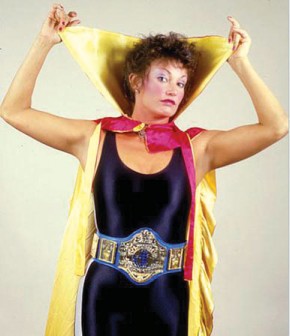 The then-Women's Champion dominated her craft over such opponents as Princess Victoria, Peggy Lee and Velvet McIntyre
However, the winds of change were starting to blow as 1984 began, as arguably the most impactful WWE women's moment of the decade was to unfold, thanks to a young Texas girl by the name of Wendi Richter.
In contrast to the crafty and deliberate ways that Moolah operated, Richter was full of vim and vigor. Richter represented a girl who just wanted to have fun, and through her association with singer Cyndi Lauper, they did just that.
Fast forward to 23 July, 1984. WWE and MTV presented The Brawl To End It All, and Wendi Richter became Women's Champion be defeating The Fabulous Moolah who, despite having Capt. Lou Albano by her side, was dethroned.
The Richter-Lauper association was a very good one, as it was one of the signature pieces of what became the "Rock 'n' Wrestling Connection." Lauper's tenure with WWE was a feather in the company's cap. The pop star recruited Albano to be part of her "Girl's Just Want To Have Fun" music video, and things gravitated from there.
There was a bump in the road on 18 February, 1985 when Moolah's charge Leilani Kai won the Women's Championship from Richter on MTV's War To Settle The Score. That reign did not last long, though, as Richter (accompanied by Lauper) regained the title from Kai at the first WrestleMania on 31 March, 1985.
Another lady who hit a grand slam in her first WWE at bat was Sherri Martel. Having honed her craft in various wrestling organisations in the early-to-mid-80s, Martel entered WWE on 24 July, 1987. Untouted, she went right into the frying pan and came out as the new Women's Champion, defeating
The Fabulous Moolah (who had regained the title from Richter under the disguise as Spider Lady). As many thought that her win over Moolah was somewhat sensational in scope, Martel took that adjective to heart and renamed herself Sensational Sherri. Her in-ring style was aggressive yet cunning, and she was always ahead of the curve as it related to her title defenses.
Of course many WWE fans probably remember Sherri more for her managerial exploits that picked up steam in the early 1990's. And her foray into managing might have been in part to her dethroning at the hands of Rockin' Robin on 7 October, 1988.

Load more