Cross-over Nollywood actor, Kelvin Ikeduba, in this interview talks about his career, challenges and other issues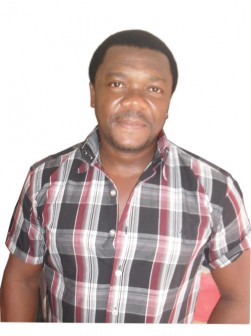 What is your background like?
I am a Christian. I grew up in a family of four. I grew up here in Lagos. I'm a ghetto boy and to be precise I grew up in Ebute Metta.
Why are you into acting?
I guess when you expect nothing in this life and you get everything it's God's doing. I guess even before my Dad toasted my Mom, God already knew I was going to be an actor, so I'm trailing the path of destiny.
What were you doing before acting?
I am a graduate of Economics and Statistics from the University of Benin. I didn't work after school, just did little hustling and before I knew it, I became an actor.
So you are a hustler?
Yes, I'm a hustler anytime, any day, like a typical Nigerian guy. You know Nigerians are hard working people.
What is the title of the first film you acted in?
The first time I ever faced camera in my life, I guess the movie should be Suitors. The lead characters in the movie were Kenneth Okonkwo and Pat Attah. I played a cameo role which they call waka-pass. It was a party scene, but I did not even dance. The producer just told me to sit down; gave me a bottle of Star and a girl.
When was that?
That should be 11 years ago.
So how has it been?
My brother, I thank God for today. You know there is this saying that the road to success is not always easy, but the only thing that keeps a man going is to believe in his dreams and keep moving.
As a Delta guy, why do you feature more in Yoruba films?
This question keeps coming up in different interviews and I give them the same answers. I am a Nigerian, so irrespective of my tribe, I can flow with any language. So in any language that I can flow with and there is a role they feel I can do, they should please invite me. Even if they feel that Kelvin can speak a little bit of Hausa and can fit into a particular role, they should please invite me.
How many languages can you speak?
I can speak nine; Hausa, Igbo, Yoruba, Benin, Ishan and others.
How did you learn all these languages?
My brother I don't know o…it just comes naturally. I mixed with a lot of tribes.
Acting in English and Yoruba films, which is more profitable to you?
The fame comes from God. No matter how hard a man works, if he doesn't have the backup from God, he won't become whatever he wants to. Even President Goodluck Jonathan, it was God that put him where he is. So I believe fame comes from God.
But as for the Yoruba and English films, we are all part of Nollywood. When it comes to who pays better, I think it is not the industry that determines that, it is the individual that determines how much he or she gets paid.
Can you be regarded as one of those that get fat pay in Nollywood?
By His grace, yes.
You mostly play mean roles in movies. How mean are you in reality?
That is the roles I get. It is the bad boy roles that gave me fame. You know how a typical Nigerian thinks; if I play the role of a pastor, even you that is interviewing me would say why can't they get another gentle boy to play the role? It's like playing Kelvin Ikeduba as a pastor and use Desmond Elliot as a thief.
What have been the ups and downs?
Kelvin Ikeduba is playing the bad boy role, but that doesn't mean I'm stereotyped. I have played other roles such as Doctor and Lawyer too, but the truth of the matter is that what people like you for is what they want you to play. If Kelvin plays the good boy role now, people will say why?
So what have been the ups and downs of playing the bad boy?
Sincerely, playing a negative character is more challenging because some people will see you and think you are who they see on TV. But what makes you a good actor is when people separate your real life from movie characters. The Kelvin in the movies is very different from the Kelvin here. So your ability to make people know the difference is very important.
Who is Kelvin? How do you see yourself?
I am a god-fearing person. I am a very caring, loving and understanding person.
Has the bad boy roles you play ever affected you in life?
It has happened a million and one times. For instance, when we are on location and Area Boys come around to collect money, the kind of attention and accolade they give me will be different from what they give to others.
Are you really wild?
I am a Niger Delta boy now…but basically, we all have control over our madness. We should all learn how to control it. I could be crazy when pushed to the wall, but I don't allow myself to be pushed to the wall, that is the truth. I will rather walk away than allow it get to that stage.
How do you see the future of Nollywood?
I have said a million times that Nollywood was a baby. When you have a new baby, he learns to crawl first, learn to stand before walking, and later start running. Right now, Nollywood is running. If you see the kind of films we take to the cinemas now, and the kind of international award nominations our movies are getting right now, Nollywood has arrived. It is not the Nollywood of 10 years ago.
Where do you see yourself in the next five years?
In the next five years, Kelvin should be representing Nollywood in Hollywood. It has been destined and so shall it be.
How have you been working towards that? Have you been receiving calls from Hollywood?
I will want to keep that to myself, but the truth is that I have always been a destiny child. I always believe that whatever I want, God gives it to me. From the first day I faced the camera, I said this will lead me to Hollywood. Besides, I am one of the very few Nollywood actors that believe that Hollywood actors are not better than us.
Between ANTP and AGN, which one do you belong to?
I belong to both of them because they are all under NANTAP.
There has been crisis in AGN and ANTP?
I don't take part in association politics. I am not a politician.
But you use your role to interpret a lot of things about the society?
Yes, but that doesn't mean I'm a politician. If I play the role of an armed robber now, even if a real robber sees me, he will fear me.
How do you achieve that; do you do researches or meet with them?
Meet with who? Abeg o… (Laughs). It is just a work of art. I learn a lot from movies too. I watch movies a lot, both Nigerian and foreign.
How do you live with your female fans?
I relate with them same way I relate with the guys. Anytime someone says 'hi' to me, especially the ladies, I don't have anything at the back of my mind.

Load more