This must be the season of weddings in the Nigerian film industry as another top player in the sector, Olufunke Ayotunde Akindele, a.k.a Jenifa, is also set to exchange marital vows.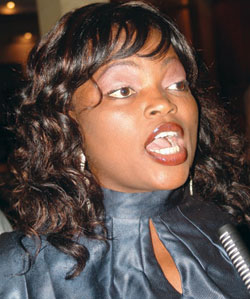 Come Saturday 26 May, the actress and producer will be getting engaged to her longtime beau, Kehinde Oloyede, at a traditional wedding ceremony in Lagos.
Showbiz Trends learnt that the union will be fully consumated in December with a white wedding.
According to sources close to the 36-year-old Funke, preparations for next Saturday's traditional affair remains very private, but open to very few friends and colleagues of the bride-to-be.
But the details swirled around when a visibly excited Funke sent BlackBerry messages to some of her friends and associates to keep the 26 May open for her as she was getting married, and will only reveal details later this week.
Funke's groom is said to be into real estate business. They were said to have been dating for quite a while and only just decided to formalise their relationship.
—Funsho Arogundade

Load more