Usain Bolt ended his six-month relationship with a Slovakian fashion designer in order to focus on the upcoming Summer Olympics.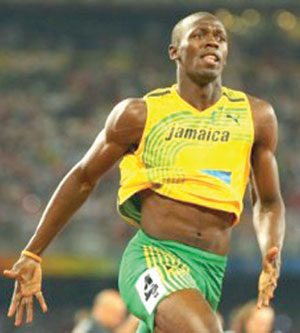 News reports suggest Bolt's breakup with Lubica Slovak, 28, was because of his desire to repeat his double-gold/world-record Olympic performance in London. The Jamaican swept the sprint events in 2008 and set the world marks in each race, reports Fourth-Place Medal.
A source close to Bolt told The Sun, "He will have plenty of time for relationships. At the moment he's concentrating on his running career and doesn't want anything to distract from that."
Slovak emigrated to Canada as a teenager and later moved to Jamaica after she took a vacation there. She was introduced to Bolt by reggae singer, Tami Chynn, a mutual friend.
The sprinting star was criticized in his native Jamaica when a picture of him kissing Slovak, who is white, appeared in a local newspaper.
A cartoon accompanied the photo, in which Bolt was seen running past a black woman with "local" written on her shirt and into the arms of a "Slovakian fashion designer."

Load more