Governorship candidate of the Democratic Peoples Party in the 2011 governorship election in Delta State, Chief Great Ovedje Ogboru has restated for the umpteenth time that he won the governorship elections in the state since 2003 but was robbed by the Peoples Democratic Party, PDP, and the Independent National Electoral Commission, INEC.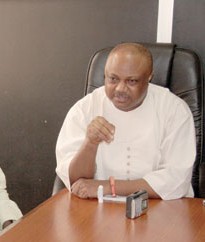 Ogboru who disclosed this during a courtesy visit to TheNEWS/P.M.NEWS Corporate Office in Lagos, Wednesday, said he had always won elections in the state but robbed of victory by the PDP agents who manipulated election results in all the elections conducted in the state.
"I have never at anytime lost election in Delta State. In fact, I've always won. In 2003, against Chief Onanefe Ibori, I won that election.
"In 2007, General Obasanjo made sure there was no election in this country," he stated.
The DPP candidate accused the PDP of inflating figures of votes cast in the riverine areas to deny him victory in the election.
In the 2007 governorship election, Ogboru blamed his loss on former President Olusegun Obasanjo who made sure that there was no election throughout the country but allocation of votes to his cronies.
He described the PDP in Delta State as a dangerous specie that is ready to bribe anybody to achieve its aim.
Ogboru also revealed that he met former military President, Ibrahim Babangida a couple of times after his return from exile, adding that he found him a likable person.
He described Obasanjo as a disaster to the country and blamed him for most of the problems facing the country.
—Lanre Babalola