As David Beckham prepares to receive the Olympic flame on behalf of London, 2012 chairman Sebastian Coe has said that it would be "fantastic" if he were selected for the Great Britain football team, but his place should be decided purely on merit.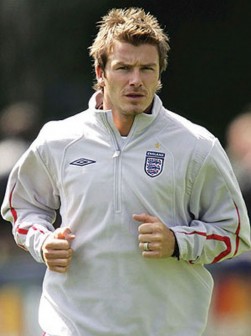 Beckham was part of the official London delegation at a handover ceremony in Athens yesterday afternoon and will play a part in its arrival in Cornwall today, helping light the first flame in the UK.
Beckham's involvement has further raised expectations that his selection by Stuart Pearce for the Team GB squad is a faith accomplished that will be driven as much by commercial concerns as merit.
Beckham is an ambassador for Samsung, who are also sponsoring the torch relay, as well as one of the most high-profile athletes sponsored by adidas, who are manufacturing the Team GB kit.
Speaking in Athens on Thursday Coe rejected that proposition and said that the decision to involve Beckham so closely in one of the key moments for the torch relay would not increase the pressure on Pearce.
"We have put no pressure at all on Stuart Pearce. He has to pick the team that he thinks can lift that trophy, I wouldn't expect any other coach to operate on anything other than that basis, the coach has to be in pole position to select on skill and merit," Coe said.
"I think anything Beckham joins he brings glamour too, but it is entirely up to Stuart. But of course, David around the Olympic program wilI be a fantastic thing, but that is not for anyone other than Stuart to decide."
Beckham has been involved with London from the very start of the bid, and Coe said it was appropriate that he should play a lead role in the torch relay.
"David has been with us from the beginning, he was there when the evaluation team were with us, he travelled independently for us getting our message across. He was there in Singapore and even a few weeks ago in Los Angeles he was helping me. It's absolutely right that he should be here. As he put it himself in Singapore, it is in his 'hood."