Nigerian players in the Portuguese table tennis elite league will have their hands full when their club, GDSR Os Toledos face Sporting Club in the final tomorrow.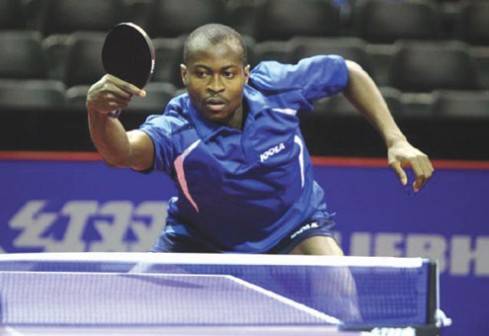 Nigeria's Aruna Quadri and compatriots, Seun Ajetunmobi and Kazeem Nosiru will be playing for their team in the cracker tomorrow after they helped GDSR Os Toledo win the two legged semi-final matches against Ponta Do Pargo last weekend.
Speaking ahead of the final tie, the 2011 All Africa Games bronze medalist said: "I feel great for making it to the final. It was not an easy job as we fought from the beginning to the end of the round robin matches, where we ended up in the first position. I must confess, none of the teams were easy but we are happy that we dominated the league from the beginning to the end of the round robin matches."
The dream of Quadri as the season is coming to an end in Portugal, is to win a trophy with his team. He said: "My dream so far this season is just to win the trophy, which I could not win last season and I believe it is possible with God. We have been doing all that we need to do but all things depend on God and we pray that God will be on our side this weekend as we visit Sporting Club in the first leg of the league final.
"Currently, Andre Silva of Sporting Lisbon is the main threat to our team due to his present form both locally and internationally, but we'll be up to the challenge," he said.
"We are all playing very well. Ajetunmobi and Nasiru have been fantastic since the beginning of the league. They single-handedly took their team to the playoff before they lost to Sporting Lisbon in the semi final both home and away.
"Similarly, Abiodun is a key player of his club, and has been doing a good job for them. He also took his team to the semi final of the league playoff before we beat them home and away two weeks ago. The exploits of Abiodun had earned him several league titles in Portugal."

Load more