New generation Fuji musician, Mudashiru Oluwafemi Adedolapo Ajani popularly known as Safejo Amama, in this interview with P.M.Entertainment speaks on K1, Saheed Osupa, Pasuma and his career, among other topical issues.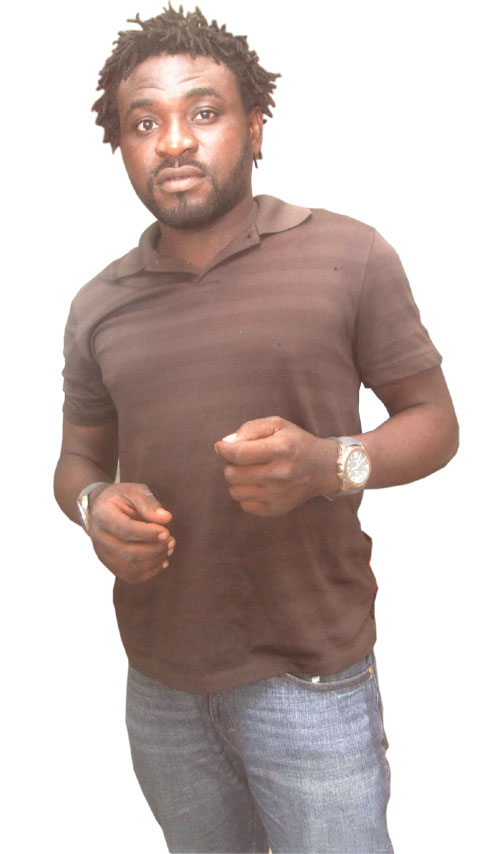 Why are you using two wristwatches?
You know, one has to be creative in this job. There are various types of Fuji musicians around. I ask myself what people would identify me with as a top Fuji music star whenever I leave the stage no matter how long I am off stage. I had to create a distinct identity for myself. That is why I use two wristwatches which stands me out among my contemporaries because another Safejo Amama can come up tomorrow and I will be easily identified and differentiated from him as I have already been known and referred to as Safejo Amama Alagomeji.
When and how did you come into music?
As it is generally said, it is not how far but how well, Alhamud lilhai, I am bold to say that I was born into music. I can describe myself as a born musician in the sense that I hail from Ayan (drummers) and Egungun (masquerades) family whose members are traditional singers cum dancers and acrobatics, which means entertainers. It is the combination of all these that I modernise. So, music is in my blood.
Since you are from an entertainment clan, you can fit into other music genres like Hip-hop, Apala, Juju and others. Why did you choose Fuji Music?
You see, if there is destiny as is generally believed, definitely, Safejo has been destined to play the type of Fuji music he plays. So, it is God's making.
Tell us your background
I am from Ora, Igbomina, Osun State. There are many Igbominas though, it was the state creation that put us in Osun State. In the nearest future, we are hopeful and optimistic that we are going to have our own Igbomina state. (laughter).
Safejo Amama is a stage name. Who is Safajo Amama?
My name is Mudashiru Oluwafemi Adedolapo Ajani.
Is it true that you were a shoe maker?
It is true, I won't lie. It is obvious that every human being, rich or poor, star or not, begins life somewhere and somehow. I lived with my uncle who is a shoe maker when I was in secondary school at Sari Iganmu Secondary School, Orile Iganmu, Lagos in 1991. That was where I had the knowledge of shoe making. I am telling you categorically that I am proficient in the trade and it has financially helped me a lot in my career.
Are you still making shoes?
No. I thank God. Fuji music has taken it off me. Stardom and busy schedules have taken all my time.
You were at the centre of the rift between K1 and Saheed Osupa; what actually happened?
It's a long story but I do not want to make any comment about Safejo, Osupa and K1 anymore. That issue has come and gone forever.
Why did you pitch your tent with K1 and not Saheed Osupa whom you sing like?
Point of correction, I don't sing like any other person. I have my own style of singing. I sing what I naturally find in my voice. I am not a copycat and that is why I still remain relevant up till today. Now, the issue of K1, I am a member of Arabanbi family of which I am presently the speaker and everybody knows. For me not to have pitched my tent with Osupa is a long story. I like him as a person but he does not like me, that is the reason.
Apart from K1 issue, why did you team up with Pasuma against Osupa?
I did not team up with Pasuma against Osupa. What happened was that we are all Fuji musicians, we sing any type of Fuji and Fuji music is not censored by any board yet. My argument has always been that Saheed Osupa is very disrespectful to senior colleagues. I will never blindly join the bandwagon.
How many albums have you released so far?
Many.
You have travelled wide; have you really made money from music?
Al hamud lillahi. Money is not always enough for all of us, no matter how much. However, I have been managing my life without financial stress but I still need more money. (laughter)
From your experience, has there been a time you wanted to call it quits with music?
It happened several times, but I don't want to recollect some incidents. One of such was when my band member, Kabiru, died in a motor accident. May his soul rest in peace. The Okitipupa incident was another one I don't like to remember. Many times I have been stranded at shows but with dedication and God's grace, glory be to Him, I have been able to surmount all the problems.
As a Fuji music star, how do you cope with female admirers?
It is very simple. I am married and I tell whoever cares to listen that I am happily married. It is as simple as that.
Any regrets?
No, not at all.
You are one of the new generation Fuji acts; compare Fuji music 25 years ago with today's?
Fuji music is great now. Twenty-five years ago, it was like a plague in music circle then. I learnt that before our emergence, Fuji musicians used to be sworn enemies as competitions and rivalry among them were rife. Then, it used to be known as "competition", but when we came on the scene, we changed it to "promotions". Consequently, Fuji music genre has recently recorded a positive change and that is great. We now see one another as brothers and sisters in the same business. We visit one another, socialise and fraternise together.
How do you get inspired?
It is God and my fans. I only take soft drinks and water if I must drink at all.
Any message for your fans?
My message to my fans is for them to continue to stand by me. They should not desert me and I will always meet their expectations.
—Kayode Aponmade