In a quest to strengthen the war against corrupt practices and ensure greater transparency and accountability in the oil, gas and mining sectors, the Economic and Financial Crimes Commission, EFCC, and the Nigeria Extractive Industries Transparency Initiative, NEITI, have agreed to forge closer collaboration.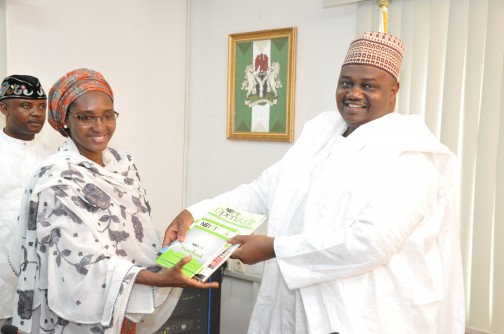 This resolve was made on Friday during a courtesy visit by the management of NEITI on the Executive Chairman of the EFCC, Mr. Ibrahim Lamorde in Abuja.
The NEITI team was led by its Executive Secretary, Mrs. Zainab Ahmed.
Ahmed spoke on ways of possible collaboration between the EFCC and her organization, stressing the need to impose sanctions on erring entities in the extractive industries.
She said that although the NEITI Act of 2007 empowers it to impose sanctions on erring entities, she lamented that NEITI does not have the capacity to investigate and prosecute offenders.
"This is why a stronger collaboration with other anti-corruption agencies like the EFCC becomes necessary," she added.
She asked for a dedicated NEITI Desk in EFCC to facilitate seamless synergy between the two agencies.
She explained that, with such a desk, it would become easier for the EFCC to enforce the NEITI Act and investigate complaints arising from NEITI audit report.
It would also facilitate prompt prosecution of offenders, information sharing, capacity building for stronger inter-agency partnership.
"NEITI will want a Memorandum of Understanding with EFCC, the contents of which shall include collaboration to enforce the Act," she proposed.
In his response, Lamorde described the visit as the beginning of a renewed and robust working relationship between EFCC and NEITI.
He lamented that Nigeria could still not establish how much is being generated from the oil and gas sector and the quantity of crude being exported.
"Figures being reeled out from one agency to the other are always at variance and contradictory. There should be a way of determining how much revenue is being generated and what quantity of crude is being taken out to the international market.
"Installation of meter to see clearly how much oil is being taken out of Nigeria is a thing I think we should consider. Going forward, we are going to establish the NEITI Desk in EFCC to address issues that will come from NEITI," he said.
He also said that if the audit report generated by NEITI was religiously followed, "we would not have been where we are today as it relates to the fuel subsidy probe by the House of Representatives and the Senate because we are aware NEITI has always voiced its concern on the revenue generated from oil and gas and projects funded with such revenue.
"It couldn't have been better than now for us to come together to establish a stronger partnership with a view to seeing that we achieve the set mandate of both agencies. You have the expertise in the extractive industry; we would assist with the investigation and prosecution. Coming together, the two organizations will bring very strong force to bear on some of the issues happening in the extractive industries, especially in the oil and gas sector."
Ahmed was accompanied on the visit by NEITI's Director of Legal services, Barrister Peter Ogbobine; Director of Finance, Donald Tyoachimin; Director of Communications, Orji Ogbonnaya Orji; Director of Technical, Tariye Omungiye George and Outreach Team Leader, Obiageli Onuorah.
Load more