Nollywood actress, Kiki Omeili, speaks about her career and other issues.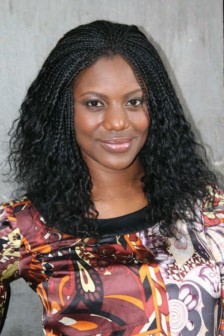 How many films have you done so far?
As an actress, I have featured in several soap operas and movies such as Married But Living Single. I have also presented a couple of programmes among which is Dance TV reality show.
When did you begin acting?
I started acting about one year ago. I just have the flair for it. It is something that when I watch people do it on TV, I always believe it is something I can do, so I started going for auditions and the roles kept coming. It is something that makes me happy.
What were you doing before acting?
I was practicing my profession: medicine.
So why did you quit your job as a doctor for acting?
Well, a lot of people think that it is strange for a medical doctor to cross to acting, but for me, it is no big deal because it is about your passion. I still see myself going back to medicine in the future and if possible doing both side by side.
So we should expect you to quit acting soon?
No. I still do it full time for now.
What do you intend to achieve as an actress?
I see acting as a medium to deliver a message. Most times when we watch programmes on TV, we are not just watching to be entertained, we also watch to learn something. You see, acting is such a powerful medium where people learn lessons and also get entertained. So as an actress, my major goal is to let people learn.
As an actress, what will you like to be remembered for?
If I ever stop acting, I will like to be remembered as a cheerful, fun actress who viewers will always love to watch.
Before you started acting, was any Nigerian actress you were looking up to?
Her name is Nse Ikpe Etim. I look up to her because she is a wonderful actress. Among the men, I will like to work with Richard Mofe-Damijo.
We have seen a lot of actresses complain about being taken for granted in the course of doing their job. Have you experienced that?
The truth is that if acting is what you really want to do, you need to be humble. It is true that some people will take you for granted; a lot of people will want to treat you anyhow, but you just have to put that aside and be humble.
Tell us about your family and education background?
I am the second child in a family of four. I studied medicine at the College of Medicine, University of Lagos. I am from Anambra State.
What was your experience on the set of The Valley Between?
The set was really awesome. We shot in Ijebu-Ode and I had a very lovely work experience because the crew members and other cast have a good working relationship. It was a professionally shot job that will go places.
With your experience on the set, what will you describe as the unique selling point of the production?
It touches on various issues, both career-wise and domestic issues. So I believe it will appeal to all ranks of people.
What role did you play in The Valley Between?
I played the role of Nikki, a friend to Kate who is one of the lead characters. Nikki is someone that advices Kate on issues such as her career and love life. But Nikki also has issues with her own love life too. Nikki is just a very interesting character; full of life, fun to be around.