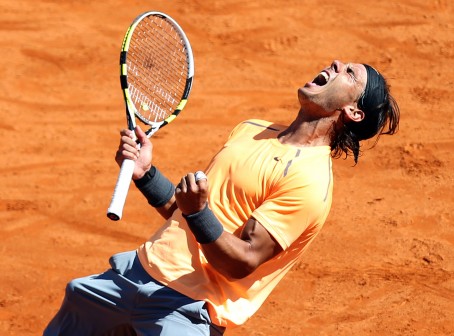 Rafael Nadal is hoping to finesse his sixth trophy at the Rome Masters into a lucky seventh at the French Open as the Spaniard heads for Paris for the grand slam beginning on Sunday.
Nadal spent Monday on court instead of resting as he beat world Number 1, Novak Djokovic, 7-5, 6-3 to lift a sixth trophy at the Foro Italico in a final delayed a day by rain.
The Spaniard has recovered his winning touch with two straight clay success against Djokovic, who beat him in seven finals in 2011 on three surfaces.
Nadal has won 2012 claycourt titles in Monte Carlo (his eighth), Barcelona (his seventh) and Rome with his only loss coming in Madrid where he went down to compatriot Fernando Verdasco.
A month after stopping the Serb in Monte Carlo, Nadal and his team now travel to Roland Garros with the player on top form and fully confident once again.
"We will be in Roland Garros but now we are in Rome and it's a happy day to be here with the title another time," said Nadal, not wanting to look ahead in his moment of victory.
"Rome is historical and it is for me very important to keep playing to keep winning and I did today.
"This is a personal satisfaction."
Nadal, 16-1 on clay this season after winning the 49th title, said that beating his rival was important for his confidence. "Winning is important, when you lose you play with doubts.
"This was an important match. I will put this trophy in my bedroom. It is a dream of confidence I am playing well. This comes when I play at the right level, hopefully I'll keep playing like this."
The 25-year-old said that despite regaining the No. 2 ranking behind Djokovic to leave Roger Federer on third again, he is not concerned with the numbers.
"It is better two than three and three is better than four. But after eight years being in the top two, it is no big difference.
"It's normal for the rankings to change in the around Roland Garros or Wimbledon. I'm a few points from Roger. I'm happy about everything."