He was a council chairman, commissioner; Senator and just recently completed a successful tour of duty as the country's High Commissioner to Ghana. The PDP governorship candidate in the Lagos State governorship election in 2007, Ambassador Musiliu Olatunde Obanikoro, speaks with JAMIU YISA on various issues, especially how his party intends to regain power in the southwest in the 2015 general election. Excerpts: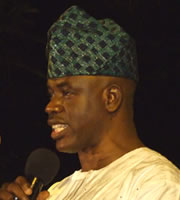 Sir, let us start with the reconciliation within the Lagos State chapter of the Peoples Democratic Party. How far have you gone with the process?
Don't forget that crisis in politics is normal, because sometimes we create an impression that having crisis in the political sector is unusual; but it is not. Politics is about conflict resolution, the management of groups and individual interest. Given the fact that PDP is the largest political party in Africa and the party has been ruling the country since the beginning of this political dispensation, members are bound to clash over political interests and it is when you are happy that you talk about reconciliation.
Even as we reconcile one issue, another one will rear its ugly head again. Even within yourself, there is internal crisis and as you solve one, there is bound to be another within you. Elimination of one conflict area does not translate to total elimination of area of conflict. I want us to have that at the back of our minds. Now, our assignment is to minimise our area of conflict in the PDP and to a large extent, I think we have been successful because we have reduced the grey areas. We may not have eliminated all areas of conflict but at least our efforts have reduced the differences and whatever differences that is left can also be mitigated and resolved.
What you are now saying is that all the warring PDP factions in the state have been reconciled?
There is no doubt in my mind that the aspiration of an average PDP man in Lagos State is to a have united party. I believe they are all committed to it and I believe everybody is working towards achieving that goal.
From the foregoing, how far is the party prepared to tackle the ruling party in the state, the Action Congress of Nigeria (ACN) in the coming elections?
If I tell you our level of readiness, then I must be stupid but the truth of the matter is that we have demonstrated during the last local government election in the state that we have the capacity to effectively challenge the ACN and we intend to build on that.
Talking about the last local government elections, your party is at the tribunal challenging the results of some local councils; do you really hope to win this?
Let me tell you, what the Lagos State Independent Electoral Commission (LASIEC) and ACN did during the last local government election is worse than the annulment of June 12 election in 1993, but because that one took place at the national level, people seem to pay less attention to what transpired here in Lagos State during that sad electoral period but the truth of the matter is that anywhere you see injustice, you must stand up against it. If you fail to stand up against it; that injustice will one day consume you.
Now, having said that, I believe they have also lost in the court of public opinion. I believe they have also lost before God in this matter. It is now left for the tribunal to either be on the side of the people and on the side of God or be on the side of the godfathers. If they choose to be on the side of ACN, God will then be the final arbiter as far as this issue is concerned but there is no doubt that they lost in all those local governments and they are bad losers.
Looking at the result of the last local government election where your party was declared winner in some wards, would you say your party did very well?
With the impression created by the ACN and LASIEC, we have done very well and subsequently we will do better.
How are you building on that performance as a prelude to the 2015 general election?
Whether we are building on it or not, I'm not going to tell you. It is our own strategy and, you just like all others, would have to wait till there is another election to see whether we have gone to sleep or if we intend to build on the last achievement recorded by our party during the local government election.
You just finished you tenure as Nigeria's High Commissioner to Ghana, how would you describe your tenure?
Without sounding immodest, I would say I did my best. I wouldn't want to assess myself. I would want a situation where you can also interact with the people that we have served. Let them do the assessment. If you ask me, I would say I thank God Almighty Allah for taking me there and bringing me back safely. Without any iota of doubt, I did my best in service to our motherland, Nigeria.
During your tenure, was there any experience you can describe as the most memorable?
When the incumbent party lost an election with about 40,000 votes but took it in good faith. Just 40,000 votes and you cast your mind back to our own country, Nigeria where just a local government election was conducted and somebody won and somebody else was announced as the winner. That has led to strong convincing moral value in terms of what being a statesman is all about.
Going through your credentials, you were formerly a council chairman, a senator, an ambassador and gradually you are becoming a force to reckon with in Nigeria's politics. Therefore, your experience as an ambassador coupled with what you learnt in Ghana, how can you translate it for the betterment of the Nigeria society?
As they say, no experience gained in life is a waste. I want to tell you unequivocally that I learnt a lot in Ghana and there is no doubt in my mind that as long as I remain in the domain of public service as a public servant, I will continually work very hard to bring to bear some of those things that will be beneficial to the people in the areas of education, infrastructural development and health care delivery among others. This is the only country where public servants display ostentatious lifestyle that they didn't exhibit prior to coming into service. This is a good example that I think I have brought from Ghana. I was raised to be humble and modest in anything that I do. In fact, my religion itself taught me that. But in this country, it seems we are deviating from the religious and moral teachings and even our backgrounds as very humble people. Therefore, that to me is a lesson that money cannot buy. Those of us in public service should reduce the level of ostentatious life style being openly displayed to the chagrin of the ordinary people on the streets.
Now that you are back, what should we expect from you?
I am a citizen of Nigeria, a native of Lagos. There is a lot to be done in the management of our local governments, state and the country. I want you to know that I will at all times make myself available, to contribute at all levels of development for the betterment of our country.
There is this report that Chief Olabode George was at your send-off party in Ghana and publicly said he has reconciled with you. Tell us how it happened?
I told you at the beginning that politics is about conflict resolution. We had our issues and don't forget that myself and Chief Olabode George are from the same local government. We meet to part and we part to meet. We are bound to have different issues and being a man and being responsible is rising above those issues, putting them above you and moving on with your life. If you know me, and I believe you do, I don't know how to fight anybody and I don't know how to keep malice. I can quarrel with you but I'm a very forgiving person. That is my nature and I don't prolong feud. It doesn't help anybody if we continue quarrelling with each other. We are all in politics to add value. It is commonly said that no progress can come in an area of crisis; therefore you have to create a crisis-free environment for development to occur. Besides, the challenge to reclaim our state is even greater than personal interests. The direction the state is going, some of us are not happy with it and if we continue to quarrel with each other, we won't be in a position to reclaim our state. That is why I said it is a greater challenge and we don't want to lose focus on that.
It was also reported that Chief Bode George endorsed you as the governorship candidate of your party in 2015. How would you react to this?
I'm hearing it from you for the first time. Let me check from him first. When I check from him and it is true, I will call you back and give you my response.
Does that mean you are contesting for the governorship seat of the state in 2015?
My brother, my primary concern is not about myself, it is not about running for political office. It is about reclaiming our party, bringing everybody together first, then we take it up from there. National agenda cannot thrive where the party is at war within itself. So, in order for us as a party that would be embraced by all Lagosians, we must show them that we can manage ourselves effectively and peacefully. Then, we can now ask them to entrust us with governance. That is more of a priority to me than ambition. And who knows what tomorrow holds? President Jonathan was a candidate for governorship election when he was made vice president. The late President Yar'Adua was going back to the classroom before he became the PDP presidential candidate and subsequently the president of the country. Therefore, we are not going to rule out anything but we cannot specifically say this is what tomorrow holds, and nobody can say that. What if I want to become governor and President Jonathan says 'Koro come and be Nigeria's president?'
The generality of Nigerians believe that the PDP has not achieved much in terms of good governance. What's your take on this?
You are saying this maybe because you have ACN tendencies. You are wrong. We are the only democratic party in the whole of Nigeria. Mention another party that is democratic and a party that is performing? They are not doing anything. I don't want to start condemning anybody right now. At the appropriate time, we will let you know why we cannot continue in this direction that Lagos State is going. Let me allow my younger brother, Babatunde Fashola to govern a bit. Already he's in his first year in the second term. So let's allow him to govern a little bit by next year we can start the politics. I will let you know why the ACN doesn't deserve to continue to govern the state. But for now, we will give him peace to manage the affairs of the state and when politics starts in the near future, we will talk about that.
Even when there is rumour that you are being courted to return to the ACN?
By Who?
Leadership of the ACN
Who are the leaders? Let me tell you, you just said that I just came back from a national assignment given to me by the PDP. I have no reason to leave the party for ACN. I'm a strong member of the PDP in Lagos and I intend to remain so. ACN in the last 16 years or thereabouts has not done anything that will warrant me to go back there. Is it the democratic principles they hold? The people who annulled a free and fair election? The party that doesn't have respect for the rule of law! How then do you expect me to say I want to go back to such party? The waterfront in Ikoyi has been reclaimed. We have just been warned by three different professors from University of Lagos, Osun State University and another from Edo State, that the level of reclamation going on in the state can cause earthquake, tremor or even sink the land. Yet, these people are still doing that without any sense of remorse about it. Is that the people you want me to go and join? The people that sold all our houses and inheritance without publishing any in the newspapers, is that the party that I'm going to join? My brother, I don't think so.
In the next three years, how do you see the PDP performing in Lagos State and the whole of the southwest when there are crises in all the state branches of the party?
The ACN have crisis too. They are in crisis too but they are managing it because they are in government and they cover it up. I can tell you that in the next election, PDP is going to do far better than we have done in the past, in all the six states of the southwest. You will see. They think people don't know anything and they can't see. The people can see and they are not happy in this state for so many reasons but time will tell.
Are you saying that ACN takeover of the southwest is a flash in the pan?
They didn't take over the southwest, they bought the takeover. The takeover was purchased.
But the PDP too could have bought it because they have the federal power and more money?
The president then, the late Umaru Musa Yar'Adua believed in the rule of law which President Jonathan has continued. They didn't interfere in the judicial process. It is the ACN that claims to be democratic, but we know they are nothing close to it. We don't claim to be what we are not.
But sir, there is a lot of evidence to show that the PDP actually rigged in the election?
A lot of evidence and ACN did not rig? They are saints, right? Tell me now.
But the presidential election revealed that the people actually voted for the ACN?
My brother, don't deceive yourself! They have impoverished the people such that money is the only singular factor that determines who wins an election. Don't forget that their victories in the last election, in the Senate, House of Representatives and House of Assembly were purchased. It is not because they are popular. Which popularity do they have? Go to their states and see what difference they have made and come and tell me what they have done differently that has endeared them to the people. Go there and find out.
You said something about impoverishing the people but the ACN government took over from the PDP that was in government for eight years?
It was the ACN government that impoverished them. Don't forget that the PDP inherited it from them. It was the Alliance for Democracy, AD, government in those days that messed up the system so much that to move the state forward was a major challenge. We were still cleaning up their mess when they came back again.
For eight good years?
Of course! Let me tell you, it takes you one day to pull down this house, but you can't build it in one year, and how many days do we have in a year? 365 days. The minimum days it will take you to build this house with similar structure and standard cannot be less than eight months and this same house can be brought down in two hours. That's just it.
Do you really believe that PDP can reclaim what you termed 'purchased victory' in the next general elections in the southwest?
You just wait and see.

Load more