Ten months after Miss Deaf Jamaica, Cassandra Whyte, was crowned Miss Deaf International in the United States, the 23-year old beauty queen with an enthralling smile, arrived Nigeria for the first time Monday, declaring "we are all equal".
Using sign language, instead of the acoustically conveyed sound patterns used by most people, Whyte told reporters at the Murtala Muhammed international airport in Lagos, southwest Nigeria, that she has come to debunk prejudices against deaf people, especially deaf women in Nigeria.
"I am here to visit and empower deaf people, especially deaf women and to let them know that being deaf is not a disability and to let people know that we are all equal.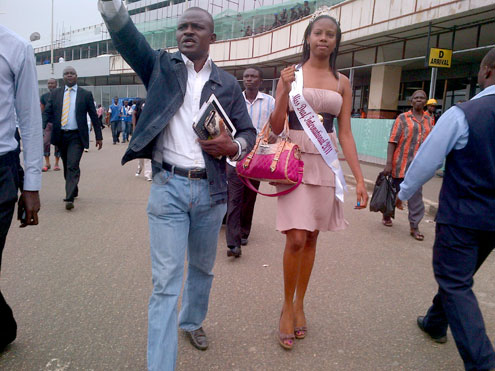 "Some people see us as useless people but we are great people either here in Nigeria or around the world," Whyte said through a Nigerian interpreter, Mr. Ayodipo Beyioku-Alase.
She was received by the President, Deaf Women Association of Nigeria, Mrs. Adedoyin Beyioku-Alase, a.k.a. Mama Deaf, and by Mrs. Oko-Igaire Tolulope Abimbola, Chief Executive Officer of the Most Beautiful Deaf Girl In Nigeria, MBDGN, pageant.
Miss Deaf Nigeria Pageant, MDN, will take place for the first time later this year, Abimbola said, adding that Miss Deaf International will be in Nigeria for one week to encourage deaf people in the country, including other people living with disabilities.
"She will travel from Lagos to Abuja and from Abuja to Port Harcourt to encourage deaf people," Abimbola said.
Whyte, a social worker at the Jamaica Association for the Deaf, won the Miss Deaf International last year out of 24 contestants from across the world. Miss Deaf Brazil was the first runner-up, while second runner-up went to Miss Deaf France, and Miss Deaf Korea was placed third. "I will visit deaf people, their schools and their communities in Nigeria. I believe that there are many opportunities for them," Whyte said. It was not clear if Whyte will meet with Governor Babatunde Fashola, the only governor in Nigeria to have signed the Special People's Law.
"I want to thank Governor Babatunde Fashola for his leadership and for the Special People's Law. But much still needs to be done. For instance, we are asking for interpreters at all public places, including hospitals and public transport buses. "Deaf people can only hear when there are interpreters for them, that is the major issue for most deaf people," said Mama Deaf whose 30-year old son is deaf and recently married a deaf woman. "His wife is so beautiful that I came to believe that all the beautiful women in Nigeria are deaf," she said.
—Simon Ateba