Oyo State Governor, Senator Abiola Ajimobi on Thursday said peace, which had eluded the state before he came to power, had been restored.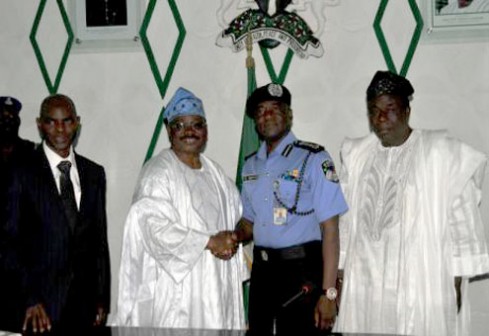 Senator Ajimobi stated this while receiving the Acting Inspector General of Police, Mohammed Abubakar who is on a day's working visit to the state.
He also disclosed that all was now set for the launch of the Oyo State Security Trust Fund next month, adding that the floating of the Security Trust Fund had become necessary in order to tackle the security challenges currently facing the state and Nigeria at large.
Already, he said, a total of 66 vehicles had been procured for donation to the police during the launch, adding that other security equipment and gadgets would also be acquired to assist the force protect the lives and property of the citizens effectively and efficiently.
According to him, "Oyo State used to be known for its brigandage and thuggery. At a point in time, it was as if the state was being controlled by hoodlums. But we thank God that since your becoming the IG and since you have posted a new commissioner of police to us, peace has returned and is reigning in Oyo State."
Although he described as enormous the security challenges currently facing the country which had necessitated the tour of some states by the IGP, Ajimobi commended Abubakar for demonstrating the willingness, ability and capability to tackle the challenges for the development of the country.
"Having interacted with him severally, I found him to be professionally broad in terms of his experience and he has been having an exciting career which has now peaked in his appointment to the highest level of his profession.
"Intellectually, I found him to be very engaging, very competent, capable and able. He is a tested and proven officer of impeccable character. I found him to be socially and culturally balanced and an epitome of good policing," the governor said.
In his remarks, Abubakar noted that he came in at a very challenging period in the history of Nigeria when police stations, banks and innocent souls were being attacked adding,"we are aware of these challenges and we are determined to tackle them. When we came in, these challenges were much more than what we see today. Today, arrests are being made of these hoodlums and charlatans. Today, we have a large cache of arms and ammunition recovered from these charlatans and we are making progress as safety and security are being restored in major cities where these attacks are being carried out."
The police boss also added that he and his team had been working hard with the citizens of the country to ensure improvement in the safety and security of every nook and cranny of Nigeria.
"Ours is to build a people-friendly police force; a police force that will be respected, respect Nigerians and provide safety and security for every citizen of this country; a police that will not harass the citizens; a police force that will be friendly in its attitude, actions; a police force that will help the aged, the children and the needy in terms of their needs. This is our mission and vision; a competent police force that is well trained, well motivated and well equipped for the security challenges of this country," he said.
Abubakar, however, identified high level of poverty, unemployment and the widening gap between the rich and the poor as contributory factors for crime and criminality.
"We have a lot of graduates and even those who have not attended any school who have nothing to do. It becomes worrisome, when you go round this country and you see the faces of unemployed persons. You begin to wonder that we just have to do what we have to do at the level of federal, state and local governments to begin to plan and put policies in place for the employment of these persons," the police boss said.
Abubakar commended Ajimobi for his passion and commitment to the security of lives and property of the people of the state which, he said, had always been known to be very peaceful.
—Gbenro Adesina/Ibadan