Barcelona will be aiming to end the season on a high with at least winning a silverware when they confront Athletic Bilbao in the final of Copa del Rey tonight.
There is no doubt that the cracker will be explosive with both the teams hungry for silverware this season. Bilbao have had a great season under Marcelo Bielsa with a final ticket in the Europa League and the King's Cup.
However, Bielsa has accomplished this feat and even though his side have suffered a lost in the final of the Europa League, they are definitely going to give it their best when they face one of the best sides in Spain tonight.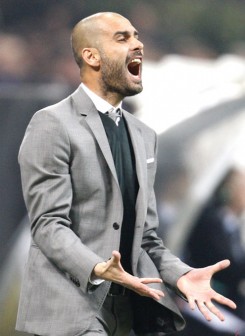 On the other hand, Barcelona have had a terrible season. They lost to Chelsea in the UEFA Champions League semi-final stage. From being the best side in the world, to not winning a single trophy in Europe this season, Barcelona are definitely going to try and beat Bilbao in order to clinch at least the Copa del Rey as a consolation.
Moreover, their arch-rivals, Real Madrid, won the Spanish La Liga and Barcelona couldn't do much about it.
However, this isn't the loss which Barcelona are going to rue the most. The loss of their head coach, Josep Guardiola, is going to cost them a lot in the future as the Catalan mentor recently announced that he will not be a part of Barcelona after this season.
The Copa del Rey final is going to be Guardiola's last game as the coach of La Blaugrana and that is the reason the final has a lot of significance for the Barcelona players, who want to give a departing gift to their legendary coach, who helped them win 13 titles during his 4-year reign.
Barcelona are currently on a five-match unbeaten streak in all competitions. The Catalan giants have picked up three wins and two draws since they last suffered a loss.
The former Spanish champions are also the most successful team in the history of Copa del Rey, as they have won 25 titles of the domestic Cup.
This season when Barcelona faced Bilbao in the league, La Blaugrana won 2-0 at home and drew 2-2 away from home.
If Guardiola wins the title, it will be his 14th during his four-year spell at the Nou Camp.
Barcelona are going to be without three of their first-choice defenders. Carles Puyol is out for six weeks since he had a knee surgery. Eric Abidal is out due to a liver transplant while Daniel Alves will not be present in the right-back role due to his respective injury. David Villa and Andreu Fontas are also unavailable because of their respective injuries.
Bilbao boss, Bielsa admits that the tie will be a tough. "Barca are still the best team in the world. So to beat them we must play at our full potential, be accurate and precise collectively. This level of pressing should subsequently decrease Barcelona's effectiveness. But Lionel Messi has solutions for almost every problem. We must try to ensure he doesn't find one," he said.
While reacting to Bielsa's claim Guardiola said: "Bilbao have a hunger in their bellies, a desire to look for things others can't fine. I try to make my players feel like they would if they hadn't won a title for four years. My main concern is how our injuries will affect us. I think it will be a great contest."