With barely three years to the 2015 general elections, the battle line for the presidential race appears drawn as prominent Northern politicians, including governors, intensify plots to stop President Goodluck Jonathan's alleged bid for a second term.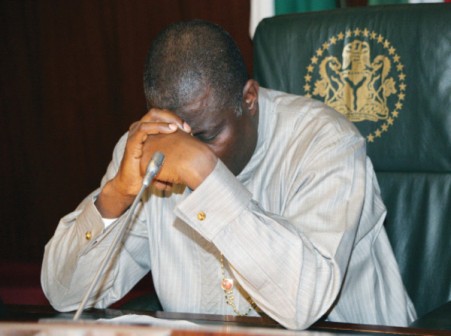 The Northern governors who are bent on stopping the president are hoping to use the budding presidential ambitions of Governors Murtala Nyako (Adamawa), Isa Yuguda (Bauchi) and Babangida Aliyu (Niger) as rallying points for Northern voters.
Political Platform reliably gathered that the plot to stop Jonathan was spearheaded by Northern governors who are no longer seeking second term tickets. They are leading the campaign for the return of the Presidency to the North because they want to contest for the Presidency in 2015.
Out of the 19 states in the North, the PDP controls 14 which are Adamawa, Bauchi, Benue, Jigawa, Kaduna, Kano, Katsina, Kebbi, Kogi, Kwara, Niger, Plateau, Sokoto and Taraba.
The All Nigeria Peoples Party is in control of Borno, Yobe and Zamfara -while the Congress for Progressive Change is in charge of Nasarawa.
Out of the 14 PDP states, 12 of the governors are serving their second term in office. Only four, which are those of Kaduna, Gombe, Kwara and Kogi are doing their first term.
Among the Northern governors who are in their second terms, only governors Gabriel Suswan (Benue), Danbaba Suntai (Taraba) and David Jang (Plateau) are likely to support Jonathan's second bid.
The governors elected on the platform of the PDP, after the party's National Executive Committee meeting on August 13, 2010, had only agreed to support Jonathan for a single term of four years.
There plan is, however, likely to meet with stiff resistance as some groups, in the South-South, have commenced activities to counter all opposition to the President's second term.
Already, the Ijaw National Congress has accused the North of "moral deficit" in asking for the number one job in 2015.
The groups National Secretary, Mr. Robinson Esitel, while reacting to the position of the Northern Governors' Forum on the 2015 presidential election, said: "The issue of who would become the President in 2015 is a choice that will be made by Nigerians as a whole and not by a section.
"The Ijaw nation insists categorically that Jonathan's Presidency is not a presidency of four years but a presidency of eight years under the constitution and subject to the good conscience of Nigerians.
"The North should not blame the perceived underdevelopment of the region on anybody. They have been in governance of this country, both under the military and civilain regimes, for the better part of the time that this country has been in existence," he said.
—Yisa Jamiu