Winner of the 2011 edition of popular reality television show, Next Movie Star, Tamara Eteimo, was recently presented her winning prizes, a brand new SUV and cash prize.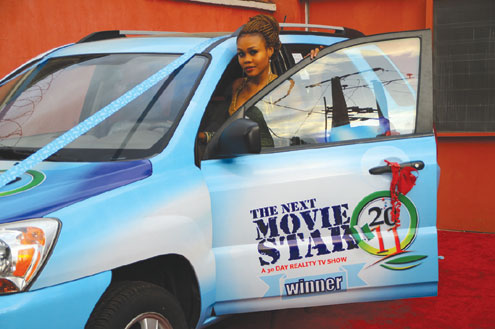 This has been the tradition of the show since inception in 2005. Hitherto, winners had always got a brand new Kia Rio car. But the organisers of the show, Digital Interactive Media, upped the stakes with the presentation of a Nissan X-Trail SUV to the 2010 winner, Akio Precious Ilami. Eteimo got a gleaming Kia Sportage.
The star-studded presentation ceremony held at the head office of DIM as fans, friends and followers of the show converged to celebrate the winners. It was a cocktail and canapé affair with soft music playing in the background.
Vivian Egbon who was the third runner up was the first to receive her cash prize and LCD TV. Next came Aisha Alli-Balogun and Tomiwa Kukoyi who were second and first runners up respectively. They also got mouth watering cash prizes and LCD TVs each. Thereafter, all the guests moved outside where a new SUV had been regally parked and decorated.
Eteimo, a Theatre Arts graduate of the University of Port Harcourt, Rivers State, expressed joy when she was presented with the keys to her car.
Speaking with P.M.Entertainment after the presentation, Tamara said she was short of words, a fact she hinged on her not expecting an SUV as the organisers had promised, but she pulled herself together to say it was a dream come true for her.
"I am extremely happy today because truth is that, I wasn't expecting this kind of beautiful car. I thought they (organisers) would just give me any car that caught their fancy. Now, it would be easier for me to navigate Lagos in comfort and style and with the knowledge that the car is a product of my sweat and talent. God bless Next Movie Star. God bless Sola Fajobi. He is indeed a star maker," she said.
Despite narrowly losing out on the top prize, Tomiwa, also a Theatre Arts graduate of the University of Ibadan, said: "I am happy that so soon after leaving school, my talent is already paving way for me and this is just the beginning. The world should watch out for this Ijebu boy," he said. Alli-Balogun and Egbon also commended the organisers for living up to their promises and for providing a veritable template for uncut acting talents to soar.
While announcing the winner of the NMS in December 2011, the executive producer, Sola Fajobi said: "This year's edition has been a unique one right from the audition grounds; we were awestruck by the quality of talents we saw. Their zeal, energy and courage were beyond our expectations."
It is in view of this that he has given a carte blanche invitation to the last set of housemates to feature in different productions of the company. Noteworthy is that shortly after the show ended last year, the winners, among other outstanding and qualified housemates, were cast in the family sit-com, Dormitory 8, which is broadcast on several terrestrial television stations across Nigeria.