Former Vice President Atiku Abubakar has implored the ruling party, the Peoples Democratic Party (PDP) to, in the spirit of the ongoing review of Nigeria's constitution, take another look at its own constitution and come clean with Nigerians on the issue of zoning and power rotation.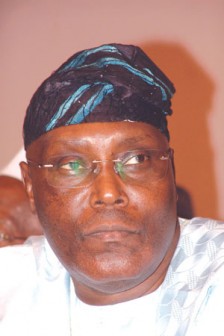 Atiku said this in a message to Nigerians to mark this year's Democracy Day made available to journalists by his media office in Abuja this morning.
"The party should throw out the provision of zoning in its constitution because zoning is dead and buried and there is no point for anyone pretending that it exists. I join forward-looking party men and women in calling for an open field for the best to emerge in the contest for all offices." Abubakar said despite the challenges facing Nigeria's current democratic order, the citizens should not lose faith in the system of government.
According to him, while it is natural for dashed expectations to lead to despair, Nigerians should not give up because democracy remains the best form of government, despite its limitations from one society to another.
While commending the sacrifices of the ordinary Nigerians who had to endure lengthy hours at the polling units to cast their votes, the former Vice President also reminded elected office holders that "democracy should not begin and end at the polling booths."
He maintained that the tendency of leaders forgetting their oath of office or their covenant with the people can lead to disillusionment, a situation, which should not be allowed to dampen popular morale about democracy.
According to him, election is an event but governance is a process, noting that the behaviour and attitudes of elective leaders while discharging their mandate would invariably affect public perception of power.
He also argued that Nigerians didn't come out to vote for the sake of it. "They voted because of the belief that the democratic process can transform their lives for the better."
He urged elected leaders at all levels to welcome constructive criticisms as a means of improving the quality or standard of democratic governance.
On Nigeria's much-criticized electoral system, which hasn't effectively tackled rigging, Atiku said without tough punishment, election fixers might continue to act with impunity.
With effective prosecution of electoral offenders no matter their status, he explained, the country would be able to achieve the much-needed deterrence against this evil, which continues to undermine democracy.
Atiku Abubakar also repeated his call that electoral disputes or petitions should be resolved before leaders are sworn into office, arguing that litigations cause a lot of distraction for leaders and diversion of public funds by politicians to fight their legal battles.
He, however, urged INEC to be proactive and on its toes rather than adopting a supine posture on the grounds that its hands are tied, especially on issues of enforcing internal democracy among political parties.
The Turaki Adamawa advised INEC to initiate amendments of the electoral laws where it found them wanting instead of submission to despair or helplessness.
In his words, "INEC must be more alive to its responsibilities as a means of reducing popular tendency towards frustration and anomie."
The former Vice President noted that the Uwais report gave a lot of hope on reforming Nigeria's electoral system, adding however, that political action is needed to give teeth to these well-articulated recommendations.
Speaking on other challenges facing the country, Atiku stressed the need to strengthen democratic institutions, especially the judiciary, which is currently battling for greater independence and credibility.
On the current security challenges, he called for citizens' participation in issues that affect their lives.
"Knowing our neighbours," he said, "was one of the ways to nip security threats in the bud."
He, however, called on the government to review its strategies on security issues once such strategies were found ineffective.