Spyros Gianniotis, who started the Olympic torch relay at the ancient site of Olympia earlier this month has revealed that something he hopes to achieve in London is to win a medal for Greece in swimming since 1896.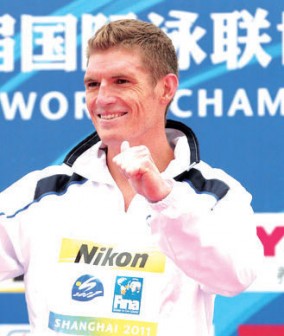 Gianniotis says his goals are "to make my country proud, to make me proud, and my family, and everybody that believes in me — to feel that good can come out of Greece."
He was born in Liverpool, England, but will represent Greece in the upcoming London Olympics. At 32, he is the 10-kilometre open-water world champion, and one of Greece's best hopes for a medal in London. He's on a team of Olympians whose training budget has been drastically reduced by austerity measures and economic crisis.
Gianniotis first swam as a toddler. He was on a boat with his grandmother, whom he calls his Nan, watching his mother swimming in the Ionian Sea. His mother later told him she saw joy in his eyes.
"And I was on the boat with my Nan, and my mom said: 'Throw him in.' And I was just 2, 2 1/2 years old, not more than that," he says. "So she did throw me in the water and I swam to my mom. … and I loved it."