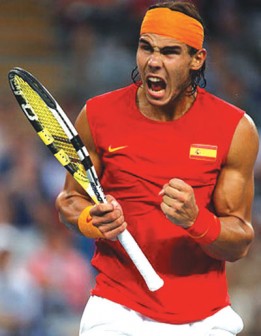 There seems to be no stopping Rafael Nadal at this year's French Open, an event that might as well be signed over to him if he wins a record seventh title.
Nadal has looked increasingly confident moving through his many years and on Thursday probably hit a fresh peak. He was rarely troubled against the Uzbek Denis Istomin, ranked 43rd in the world but light years behind the Spaniard. Nadal won 6-2, 6-2, 6-0 in an hour and 51 minutes, easier even than his first-round victory over the Italian Simon Bolelli, which fell in his lap 6-2, 6-2, 6-1.
He has thus lost nine games in this, his eighth French Open, and famously has lost only one match, to Robin Soderling when less than healthy in 2009, the year Roger Federer slipped in to lift the cup.
After his worrying dip of spirit and form last year Nadal has bounce in his step and vim in his shots again; he has beaten Novak Djokovic twice on clay this year, going some way to erasing the memory of those seven painful defeats in 2011.