Lilian Amah-Aluko is an actress, producer and vice president of the Association of Movie Producers. In this interview with P.M.Entertainment, she speaks about her career and the make-believe industry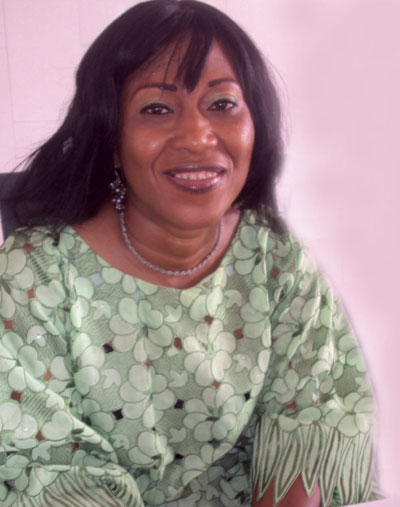 Tell us how you started and the journey so far
That's a very long story. Well, I started in 1996 with RMD's Out of Bounds. That was my first and since then I have been working here and there in several movies, soaps but I've never really done as much as I should have done, giving the time frame because I have been working full time as a banker as well as part-time acting.
How have you been able to cope?
I work with producers who can accept my timing and also when I'm on vacation. For example, when I was on location for Doctors Quarters, I had an organised schedule. Then I could go to work; when I'm on set, I would go to location, do my bit and for that, we had a specific location made for the project. So it was easy. I quit banking in 2005. Since then, I have been on my own.
Since you do soaps and movies, which do you do more?
Right now, in the last few years, I think I have done more soaps than movies.
Why?
That's the one that comes my way.
Some people would say soaps are better than movies financially. So why do you do soaps?
No. I won't say that, but movies are easier. You go on location and between two and three weeks, you are done. This project, for instance, is about four or five years now, here we are and still working on the same project. So soaps take a longer time. Over time, you earn more money but for me, that's really not the attraction. It depends on the story line and the character I am asked to play. It also depends on who is behind the job. That is what I consider before deciding whether to take the job or not.
Does your background, as a banker, influence your career?
None that I can say now. The banking world is totally different from acting. There is no way it can help me, but may be as a producer, yes. The contact I have made, if I'm trying to raise fund or look for brands to work with me, yes. People who I knew as a banker then could be of help but as an actress, I don't see what they can do for me.
How many movies have you done as a producer?
As a producer, I have done one movie but as an actress, I first did Hit And Run. That was co-produced by Emem Isong. I did Sweet Revenge. I also did that with Emem and my very first one was She is A Devil. After She Is A Devil, I've done The Triangle and Jungle Light too.
With your wealth of experience in Nollywood, as a producer and actress, how do you rate the standard of movies at the moment?
In the last three years, I would say there has been a lot of improvement. We now have a lot of producers who are interested in the quality of their works. We have people who are looking at better story lines, better equipment and there have been a few productions where you will have Nollywood people mixed with other people outside (Ghana and Kenya). All these are improving and I believe that in another two years, it will be totally a different sector.
For sometime now, there is this insinuation that the Ghana movie industry has improved more than Nollywood. Do you subscribe to this?
Certainly not. I have a lot of respect for our Ghanaian counterparts but anybody saying they are more improved certainly knows what he's saying. Nollywood, when you talk about it in West Africa, still has the top spot. Other people are trying to come along.
What about equipment?
In every aspects. I have seen a couple of Ghanaian movies, I'm not saying they are not doing well. They are trying, they are doing well, but I repeat, they are not better than Nollywood. We taught them how to make movies.
At a time, they were giving some conditions to Nigerian actors who wanted to go into Ghana to act and Nollywood reacted and tried to bar some of them too.
You see, all of these are politics. My personal opinion is that the Ghanaians felt threatened. A lot of them were spending more time working in Nollywood because they were getting jobs and being paid a whole lot of money. I know a lot of them were asking for between $5,000 and $7,000 and they were getting it, but they can't get that much in their country. What their producers tried to do with Nollywood actors was just to cause disaffection but I think that has been taken care of.
Is it true that Ghanaians get paid better than their Nigerian counterparts even when they are working on a film here in Nigeria?
I have not employed any Ghanaian actor on my set, so whatever I am going to say is not first hand. But if you look at every other industry, expatriates get better pay. So if Ghanaians are getting better pay here, I will say it is because they are expatriates in that situation. When Nigerian actors too go to Ghana or Kenya to work, they get paid better than the local actors. It is not because they are better; it is due to the expatriate factor.
Are you satisfied with the level Nollywood is now?
Definitely no. There is a lot that can be done to improve things in Nollywood. But I believe with time, we will get there.
What do you think is the problem?
Distribution. You cannot have a vibrant industry if you don't have an effective distribution network. Nollywood lacks an effective distribution network.
—Bayo Adetu