Tragedy struck in Benin City on Monday as five construction workers including an expatriate worker were trapped in the collapsed state-owned three-story hospital building under construction.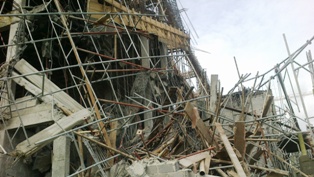 Five other workers of NCI construction company who were said to have sustained injuries were immediately rushed to the hospital's accident and emergency ward for medical attention.
The collapsed building said to be the new accident and emergency ward of the hospital, was to replace the old building of the hospital built in 1902 by the former colonial government in the country, as part of the massive re-construction of the hospital by the state government.
The collapse which occurred some few minutes past 4 pm, was allegedly caused by a crane which was lifting building materials to the top floor but which unfortunately fell on a newly cast concrete floor of the building.
Initial rescue operation at the scene of the incident was slow and haphazard, as there were no equipment to carry out the operation.
More rescue equipment were however mobilised from SETRACO and RCC construction companies and deployed to the scene before one of the two persons trapped was rescued.
The other person, said be an expatriate staff of the construction firm was yet to be rescued but could be heard to be talking where he was trapped at the time of this report.
By Jethro Ibileke/Benin