The International Olympic Committee has summoned Pakistani sports officials to resolve a row over the alleged government interference that could jeopardise the country's attendance at the London 2012 Olympics.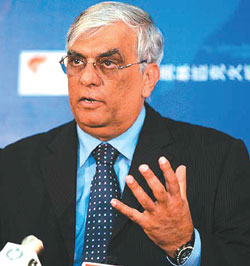 The Pakistan Olympic Association president, Syed Arif Hasan, said on Saturday that his country might face a ban if a stand-off with the Pakistan Sports Board is not resolved.
Under the Pakistani sports policy, no national sports federation head can have more than two tenures and the Pakistan Sports Board wants the Pakistan Olympic Association (POA) to follow suit.
But Hasan insisted that the POA was an autonomous body that would only follow IOC rules.
"The IOC has summoned both the parties on Monday to make clear that any government interference is unacceptable in Olympic association matters, but things can go wrong," said Hasan.
"Under the IOC charter, political and government interference is not acceptable and it can lead to the cancellation of the IOC membership and in turn an Olympic ban," Hasan, who won a third term as POA head in February this year, revealed.
"It is a very dangerous scenario."
The two sides have been summoned to appear before the IOC in Switzerland on Monday.
In its letter to the POA, the IOC said government interference was "unacceptable."
"As the London 2012 Olympic Games are fast approaching, your National Olympic Committee and the Olympic movement in your country must be in a position to work in a serene and peaceful atmosphere in order to prepare your athletes and your delegation in the best possible manner," the letter said.
"Any attempt from any government body to implement provisions which are not compatible with the basic principles which govern the Olympic movement would be considered as government interference and would result in protective measures," said the letter.
The IOC also said that the POA's February election was "fair" and "as per the IOC rules."
Pakistan's only chance to win a medal at the London Olympics lies in field hockey in which they have qualified as Asian champions.
They have also received two wild-card entries each in athletics, swimming and shooting and may also get one in boxing — but do not stand a real chance of winning a medal in those fields.