Head Coach of the Flames of Malawi, Kinnah Phiri, has said that the Super Eagles of Nigeria do not pose a big threat to his team when the two sides clash in the Brazil 2014 World Cup qualifying match on Saturday in Blantyre, Malawi.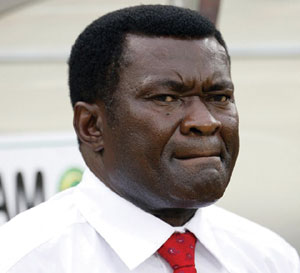 He said on Brilafm early today that "every team are beatable and that the Super Eagles of Nigeria are not an exception. "We are preparing seriously for the match because it is very important to us and we will do our best to ensure we beat Nigeria on Saturday.
"There is no big deal about the Nigerian team, who struggled to score a goal against Namibia. I don't think that result is good enough. I also know the coach, Stephen Keshi very well and what he is able to do," said Phiri.
"Our boys may look small, but they are very intelligent and very fit, and no team can play around with them anyhow. We have upset Egypt, DR Congo and Guinea at home, so Nigeria can be another victim,'' Phiri told maraviexpress.com in another interview.
P.M.Sports gathered that 19 players including 10 foreign professionals made Malawi's trip to Kenya. And barring injuries, the same squad will be used by Coach Phiri for the tie against Nigeria on Saturday.
Meanwhile, former Nigeria international, Sylvanus Okpala, has expressed confidence in Eagles' coach, Keshi, praising him for his decision to build a new team for the country.
"I like what the coach is doing because it is good to build a new team for the country as he is doing. The Super Eagles will be the team to beat by this time next year if we continue like this," said Okpala.
—Bimbo Ajayi